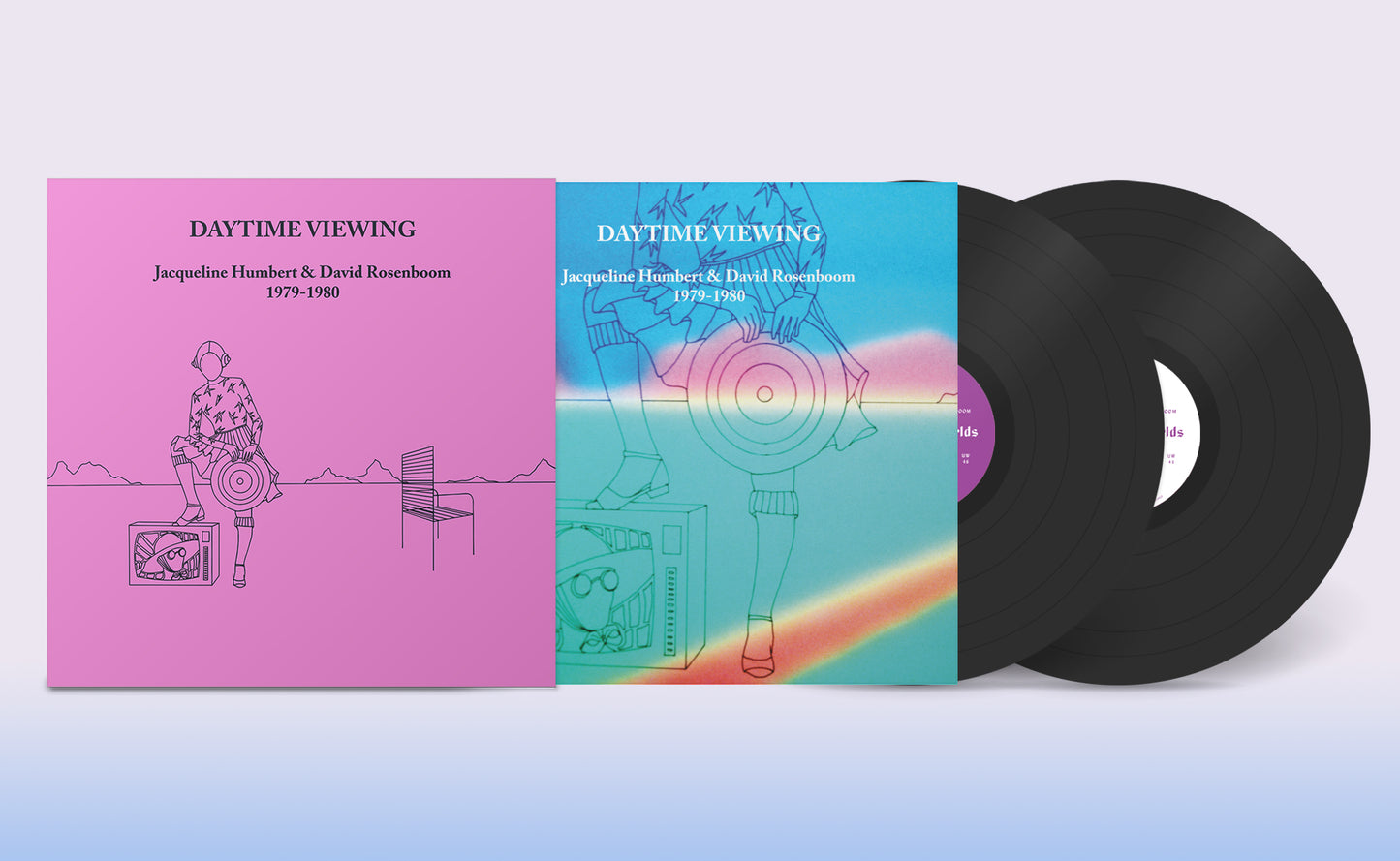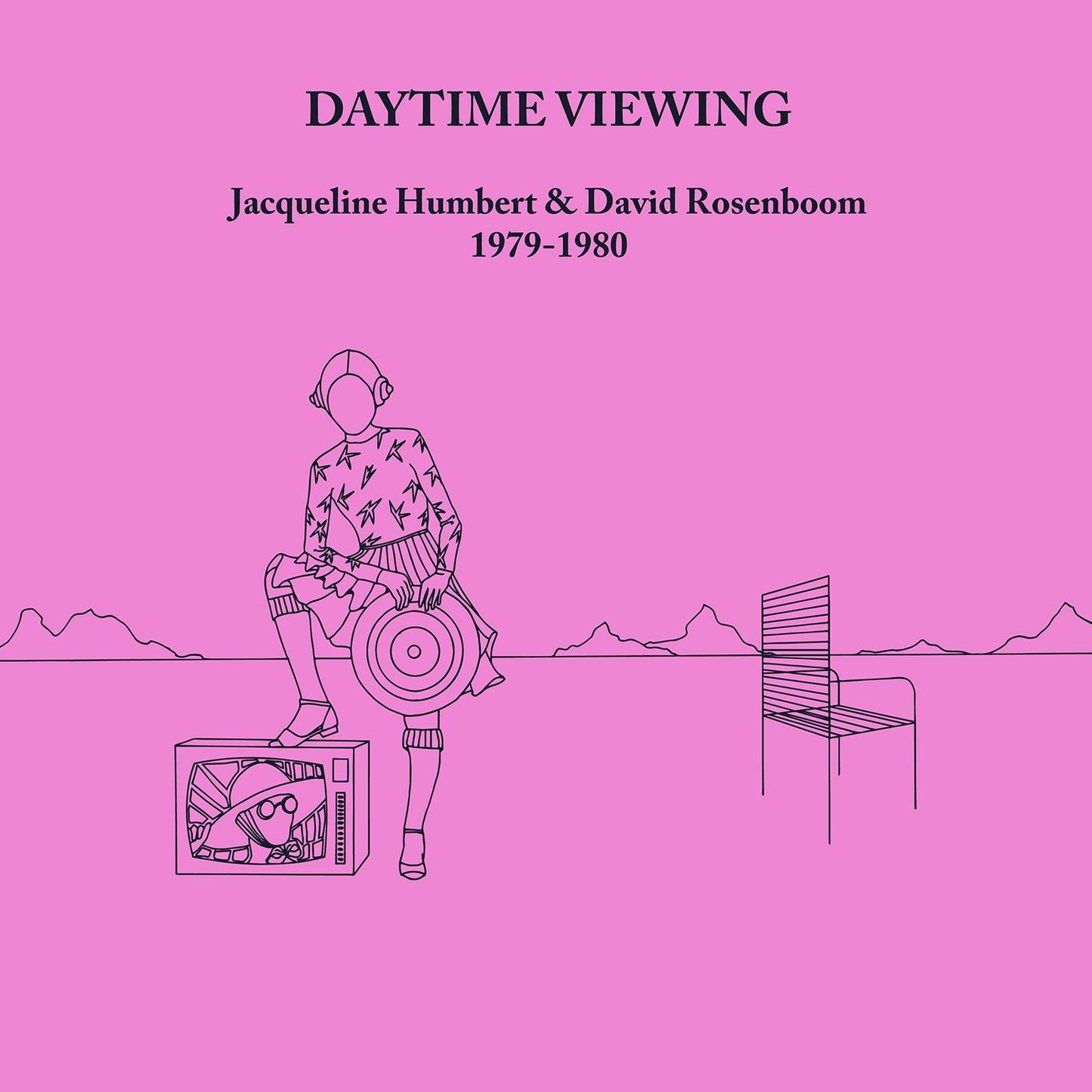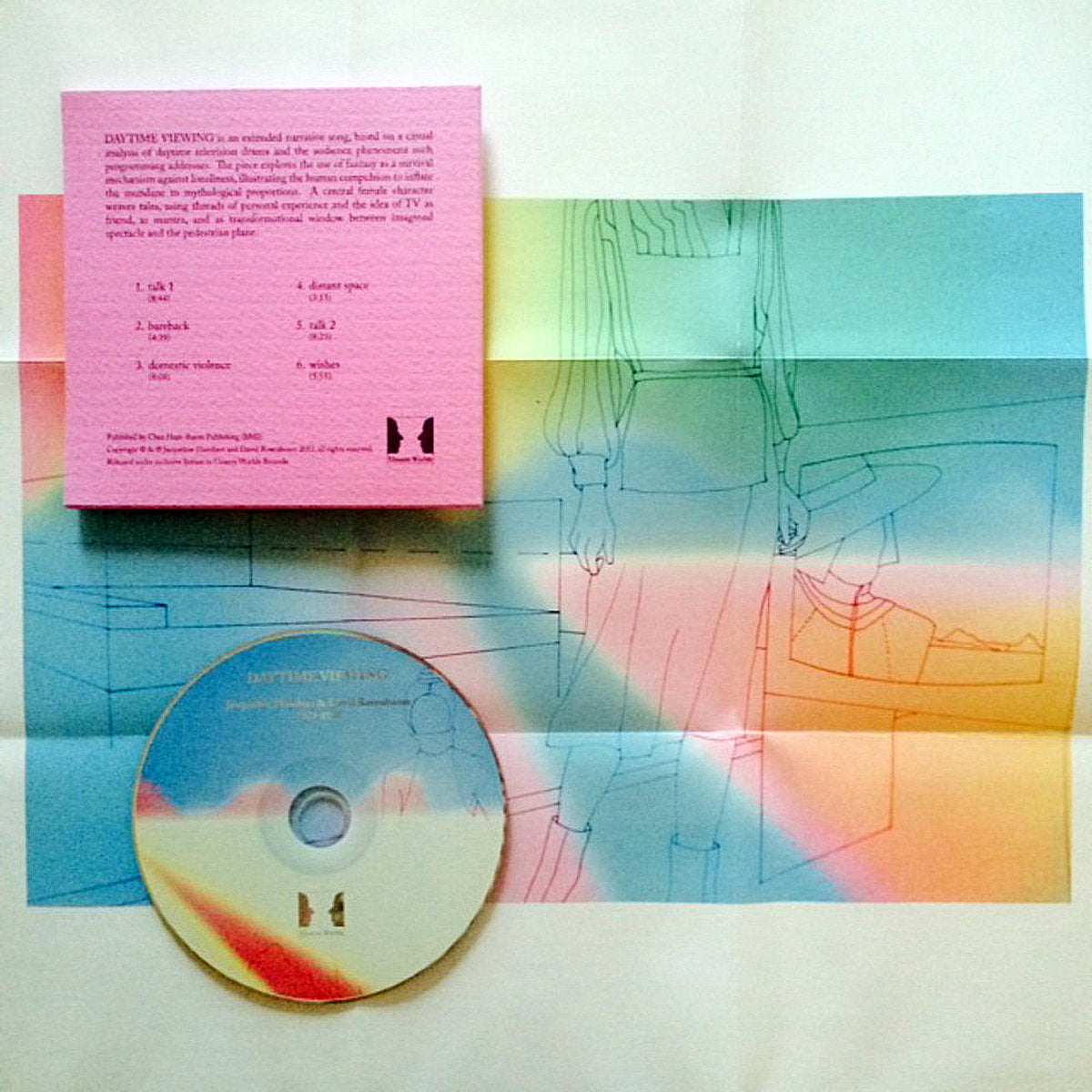 Daytime Viewing (1979-80) is an extended narrative song, based on a casual analysis of daytime television drama and the audience phenomena such programming addresses. The piece explores the use of fantasy as a survival mechanism against loneliness, illustrating the human compulsion to inflate the mundane to mythological proportions. A central female character weaves tales, using threads of personal experience and the idea of TV as friend, as mantra, and as transformational window between imagined spectacle and the pedestrian plane.

Originally released as a private cassette edition [recorded, 1982; Chez Hum-Boom release, 1983] documenting the collaborative performance piece of the same name by Jacqueline Humbert & David Rosenboom, this heady, thoroughly enjoyable work is available for the first time ever on CD and LP. Jacqueline Humbert (aka J. Jasmine) is a songwriter of brains and wit on par with Robert Ashley, with whom she's worked extensively. David Rosenboom's complex, harmonic electronic arrangements are accentuated brilliantly by percussion from William Winant. Daytime Viewing can happily be added to a small but significant group of work that, through lesser-known paths, engaged in an equally revelatory reexamination of the Great American Songbook as Minimalism did with 20th Century composition. Mastered by David Rosenboom.
Press
"Viewed as a performance, Humbert and Rosenboom's concept of what a song might encompass swells to become a mode of live audiovisual storytelling that harnesses the hallucinatory capabilities of its subjects, among them soap operas and haute couture. Whether the warm glow of a television screen or the flash of sequins caught in a spotlight, Daytime Viewing took the surfaces used by consumer culture to stimulate and reflect women's desires, arranging them in a charming way to tell a story about the stories mass culture encourages us to tell ourselves." – Thea Ballard for e-flux "…'Daytime Viewing' reappears today in a new extended version that includes a series of instrumental pieces recorded by Rosenboom alone in the margins of the work written, illustrated and performed together with Jacqueline Humbert and originally published in 1983 on a self-produced cassette…David Rosenboom takes care of the sound using a Buchla Touché synthesizer and a BOSS drum machine, making use of the contribution of William Winant on percussion to generate melodies in balance between Beaver & Krause-esque electronics… while on vocals Humbert has the task of coloring these anomalous squares with histrionics, wit, and critical sense." - Massimiliano Busti, Blow Up Mag (IT) "Exploring "the use of fantasy as a survival mechanism against loneliness" and illustrating "the human compulsion to inflate the mundane to mythological proportions , Jacqueline Humbert and David Rosenboom use daytime television as a basis for this suite of brilliantly weird pieces. Originally released in 1983. 'Bareback' and 'Talk 2' blend bubbling, John Baker-esque electronics with easy lounge textures. The most potent moments come when Humbert's vocals kick against the subject matter, as on *Distant Space'. Interstellar action with soap opera melodrama." - Electronic Sound "A recording of the piece was released as a low-circulation private cassette in 1982, and remains a captivating listen: Humbert's performance is hypnotic, and Rosenboom's lush electronics, conjured on his own self-designed Touché device, manage to sound cheery and eerie all at once. Marmite stuff, for sure, butDaytime Viewing is recommended listening for those with a penchant for Laurie Anderson or, more recently, Julia Holter's eloquent pop suites." - FACT Magazine "'And when there was nothing, no feeling, no access, no contact, no one, she turned the channel, chose a new view.' Before the internet, cultural critics used to foam at the mouth during discussions of human interaction with television. In 1979, the medium was just over a couple of decades old, and a subsuming, multi-sensory experience was pretty fascinating and even scary before we became totally desensitized to it. This was the context for Daytime Viewing, Jacqueline Humbert's and David Rosenboom's collaborative performance piece which unfurled the narrative of a woman's friendship with her television. As demonstrated by "Talk 1" this is not some lament of the lowbrow, instead an ode to television viewing, during which "dream time [becomes] her horizon." The sentiment is underpinned by the most blissful of synthesizers. Notably, Humbert studied with American composer and contemporary opera writer, Robert Ashley. Rosenboom was a pioneer in using neurofeedback in composition." - AdHoc "Humbert's voice and Rosenboom's synthesizers are joined in places by the percussion of William Winant to create a landscape that is both lush and spry. Humbert's soothingly rich, almost mechanized vocals set the stage for the record's characters in a literal sense, earnest and necessarily removed. Rosenboom's Buchla synthesizer is responsive and undulates with Humbert's voice, taking flight where lyrics are absent... Daytime Viewing is a fascinating set of music that deserves an earnest hearing." - Tiny Mix Tapes
Track List
2LP TRACK LIST
A1. Talk 1 (8:57)
A2. Bareback (4:45)
A3. Domestic Violence (8:12)
B1. Distant Space (3:22)
B2. Talk 2 (8:30)
B3. Wishes (6:04)
C1. Narration Theme (14:58)
D1. Talk 1 Instrumental (8:45)
D2. Talk 2 Instrumental (Clear Light Beat) (5:25)
Credits
Text and lyrics by Jacqueline Humbert.
Music by David Rosenboom and Jacqueline Humbert.
Music arrangements, recording, and performances by David Rosenboom.
Vocals by Jacqueline Humbert.

All the music was realized with Touché, computer-assisted keyboard instrument from Buchla & Associates—(designed collaboratively by Donald Buchla and David Rosenboom)—and Dr. Rhythm electronic percussion

Extra parts were as follows:
William Winant – temple blocks and roto toms on bareback and clavés and maracas on domestic violence.
David Rosenboom – Syrian dumbek on distant space, electronic percussion synthesized with an ARP-2500 synthesizer on talk 1, Ghanian gankoguis on talk 2, voice processing with Electro-Harmonix Memory Man and Lexicon Super Prime Time delay units, Delta labs Harmonicomputer, Eventide Harmonizer, and Buchla 200 Electronic Music Modules.
Daniel Aaron Rosenboom – baby cries on domestic violence.
All – hand clapping on "wishes."

This project was originally recorded in 1982 in analog form at the Center for Contemporary Music Recording Studio at Mills College, Oakland, CA. It was re-mastered for digital release in 2012 in David Rosenboom's studio in Valencia, California.
The recording was based on the original performance-art version of Daytime Viewing, which included music, text, theater, projections, fashion/costume designs, and video, created in 1979-80 and performed at the Music Gallery, Toronto; 80 Langton St., San Francisco; Kunsthalle, Basel; Festival International de Musique Électronique, Video et Computer Art, Brussels; and Macy's San Francisco as part of the J. Jasmine Review on the New Music America Festival, 1981.