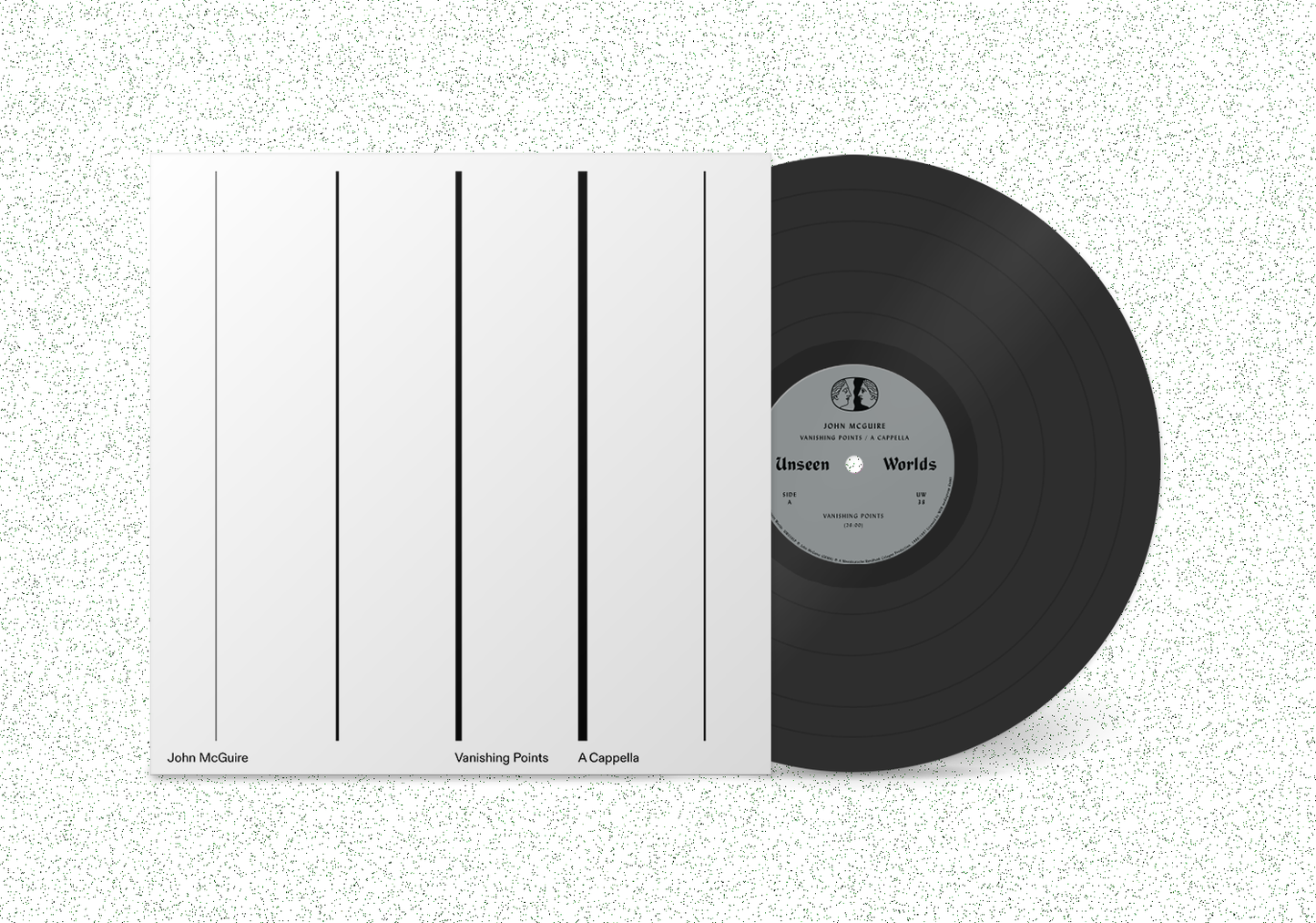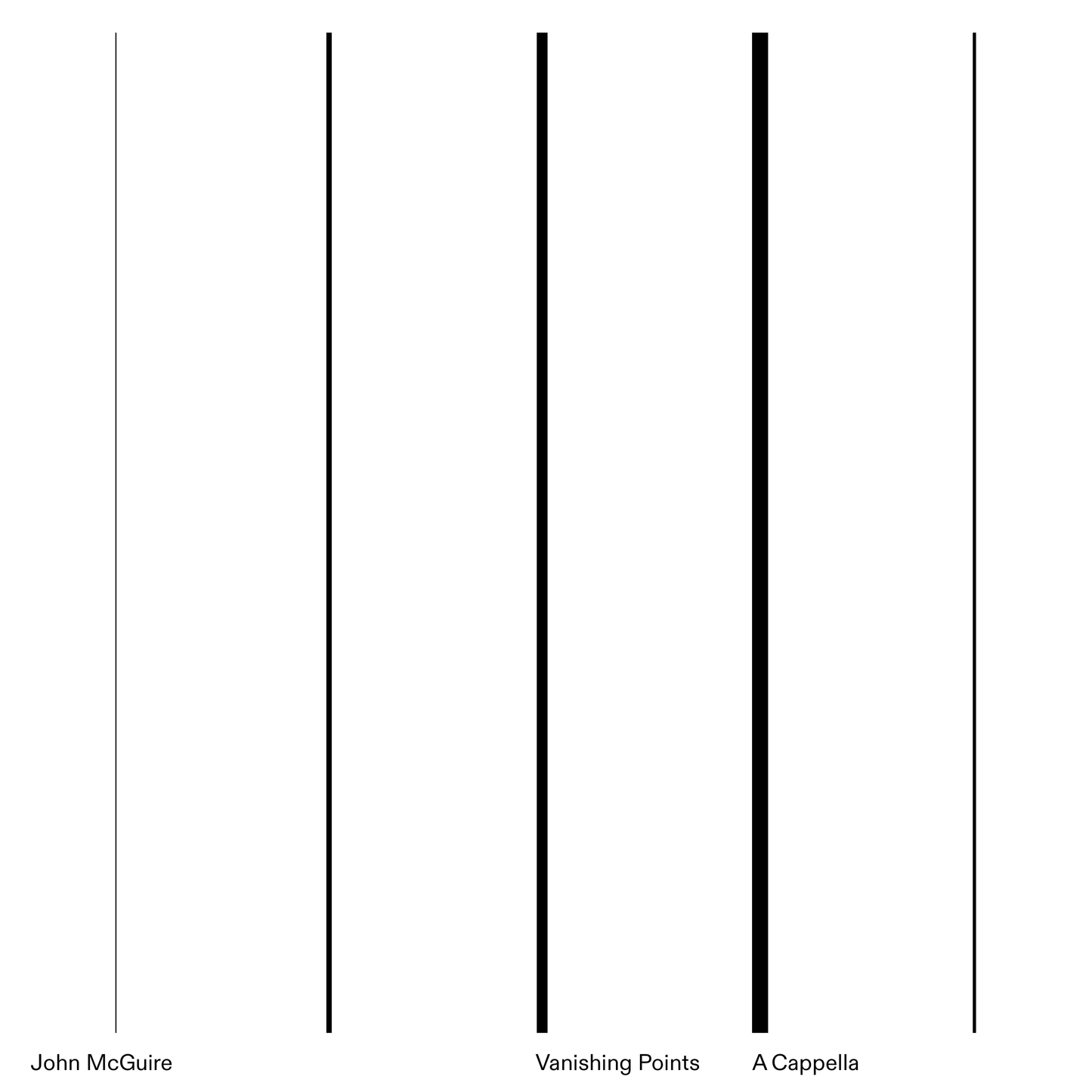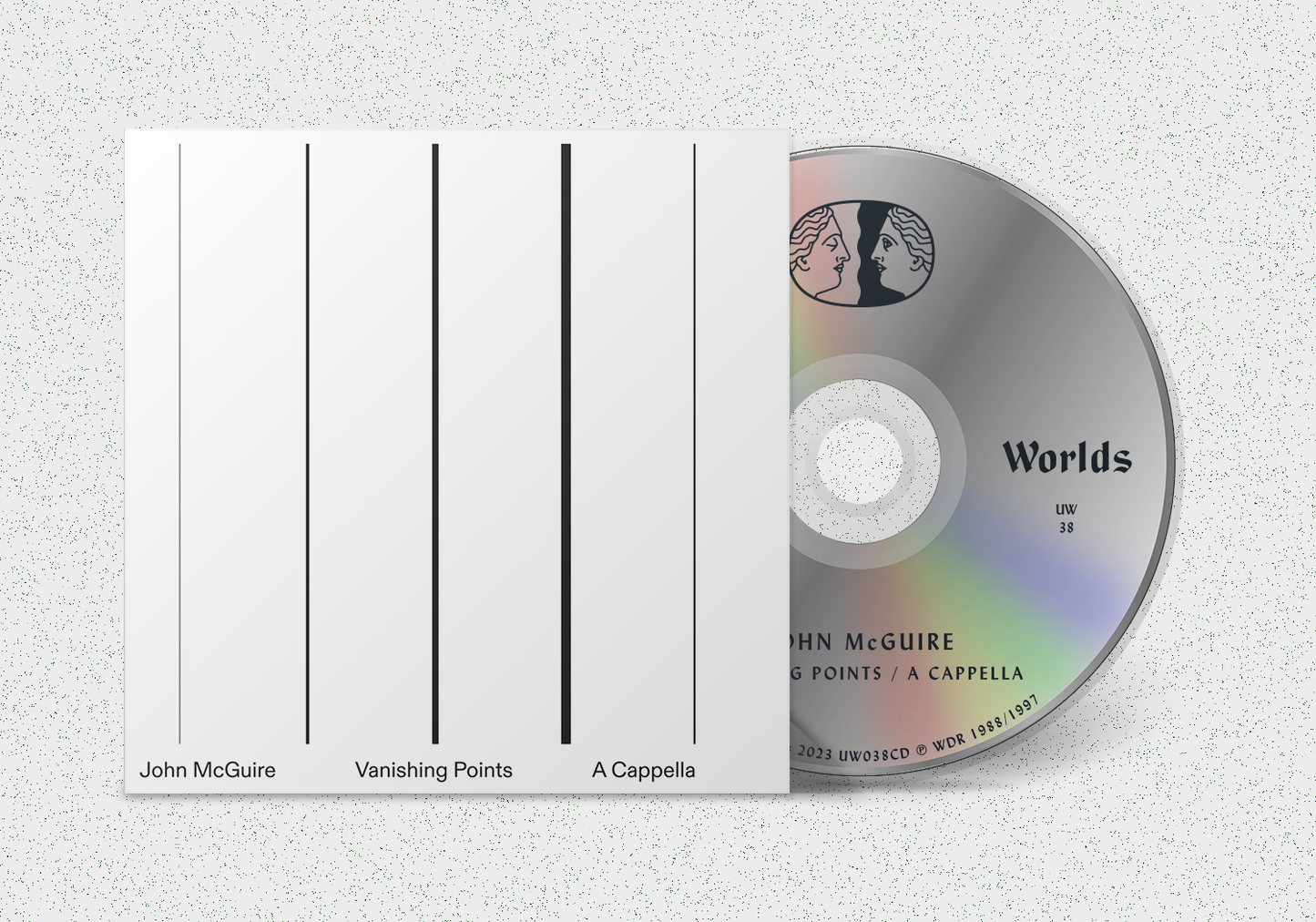 In his "Pulse Music" compositions of the mid-1970s, composer John McGuire forged a unique interpretation of European serialism. A student of Karlheinz Stockhausen, Krzysztof Penderecki and Gottfried Michael Koenig, McGuire moved to Cologne, Germany in 1970, where he become associated with the world-leading Studio for Electronic Music at Westdeutscher Rundfunk (WDR) in Cologne. Like Stockhausen, McGuire found his musical imagination both constrained and inspired by the technology that was available to him.
A conversation with sculptor Hans Karl Burgeff led McGuire to think beyond the horizon and into limitless space. For "Vanishing Points" (1985–1988), McGuire used an entirely digital set-up for the first time: a digital sequencer, eight Yamaha DX-7 synthesizers and a Studer 24-track digital tape recorder. The piece was conceived as a "sequel" to the Pulse Music series, but also a step forward from it. Whereas the Pulse Music pieces had employed steady streams of pulses, with Vanishing Points McGuire employed pulse layers that accelerate or decelerate against one another, vastly increasing the resulting rhythmic complexity.
McGuire's exploration of music technology continued in "A Cappella" (1990–1997), written for his wife, the soprano Beth Griffith, known for her recording of Morton Feldman's "Three Voices" made in 1983. Using samples, he created a four-voice choir of voice samples and arranged them into interacting parts. The composition faced challenges due to the organic nature of the human voice compared to the precision of synthesized sounds. This process involved extensive editing and a negotiation between the "material" and the "original conception". This sort of negotiation applies as much to the composition of a single piece as it does to the work of two decades.
Press
Blow Up (IT)
"'Vanishing Points' (1985-88) is all a sparkle of digital sequencer, eight Yamaha-DX-7 synths (the glory of those years) and a 24-track Studer, on which to highlight all the wonder of its stratifications / pulsations in constant process of acceleration-deceleration, which leaves you amazed by their beauty. The same goes for 'A Cappella', a composition from the 1990s, written for his wife and soprano Beth Griffith. Here too, listen to the enchantment he manages to extract from a bunch of vocal samples which in his hands become an electrifying choral worthy of the best Steve Reich." - Gino Dal Soler
The Wire Review
"Vanishing Points, realised during the mid-1980s using synthesizers and digital sequencer, reflects McGuire's commitment to compositional rigour, and his fascination with the enabling possibilities of technology made available to him during time spent at WDR's studios in Cologne. Yet the vibrancy and vivid coloration of this music should appeal to devotees of Terry Riley's electronic keyboard excursions, while the voice of soprano Beth Griffith, sampled and woven through the engaging sonic tapestry of A Cappella, may delight listeners who appreciate Steve Reich's brilliant integration of vocalists within his ensemble music."
"[John McGuire on Vanishing Points digital workflow] One of the things that I knew had to happen was that the sounds had to move around in space or they'd bunch up and sound weird, like choking. It'd be almost like a physical feeling of something you didn't wanna listen to. I originally had them on one track, to try it out and see if I could get them to move around the room in an interesting way. They would start to breathe. You would have colors that went (making sounds analogous to winds rushing through the air). Each of these swells would contain 60 to 100 sine tone pulses."
- Joshua Minsoo Kim, ToneGlow
Track List
LP TRACK LIST
Vanishing Points (26:00)
A Cappella (23:30)
Credits
All compositions ℗ John McGuire (GEMA)

℗ A Westdeutsche Rundfunk Cologne Production, 1988/1997. Licensed by WDR mediagroup GmbH

Vanishing Points (1985–88) 
Sound Engineers: Bardo Cox, Volker Müller

A Cappella (1990–97) Sound Engineers: Paulo Chagas, Markus Hassler, Volker Müller; Production Manager: Michael Peschko

Mastering
Stephan Mathieu

Graphic design
Joe Gilmore

Cover art by Aurélie Nemours,
le vertical II, 1984 © 2021 Artists Rights Society (ARS), New York / ADAGP, Paris

Special Thanks: 
Wolfgang Becker-Carsten,
Beth Griffith, Volker Müller, Karlheinz Stockhausen
All compositions © John McGuire (GEMA)
Vanishing Points / A Cappella ® A Westdeutsche Rundfunk Cologne Production, 1988/1997, Licensed by WDR mediagroup GmbH
John McGuire (b. 1942) was born in Artesia, California. After completing his BA in music at Occidental College, Los Angeles (where he studied composition with Robert Gross), he received a series of travel scholarships that allowed him to study in Europe with Krzysztof Penderecki at the Folkwang Hochschule in Essen (1966–8) and with Stockhausen at Darmstadt (1967, 1968). After completing his MA at the University of California, Berkeley, in 1970, he returned to Europe, where he studied computer composition with Gottfried Michael Koenig at the Institute for Sonology in Utrecht, Netherlands (1970–71), before settling in Germany, where he remained until 1998. Between 1975 and 1977 he studied electronic music at the Hochschule für Musik (State Conservatory for Music) in Cologne, composing 108 Pulses, Pulse Music I and Pulse Music II during this time (in 1977 Pulse Music II was commissioned retrospectively by the composer and radio producer Hans Otte for his Pro Musica Nova festival at Radio Bremen). In 1978 Pulse Music III was the second of six commissions from Westdeutsche Rundfunk (the first was Frieze for four pianos, also commissioned retrospectively, in 1976) and was realized in the famous WDR electronic music studio in which Stockhausen had composed his first electronic works.

McGuire's music, which combines influences from California and central Europe, is often described as a synthesis of serialism and minimalism, although this is an over-simplification. Certainly the role of Stockhausen in his musical development is undeniable, not only directly through his classes, but also indirectly through the friendships and associations McGuire made while he was living and working in Cologne: a crucial role was played by the Feedback Studio, a loose association of composers who had all either studied with Stockhausen or performed as part of his ensemble at the 1970 World's Fair in Osaka. Yet although McGuire's technique draws upon the parametrical and pulse-based thinking of Stockhausen's work of the 1950s (and, to a lesser extent, anticipates much later pieces such as Cosmic Pulses of 2006–7), it applies that to a much more minimalist aesthetic based on processes of looping and layering, and simpler harmonic and rhythmic ratios. In this interview with Tim Rutherford-Johnson he describes his early career, and how he arrived at the musical style of 108 Pulses and Pulse Music I–III.