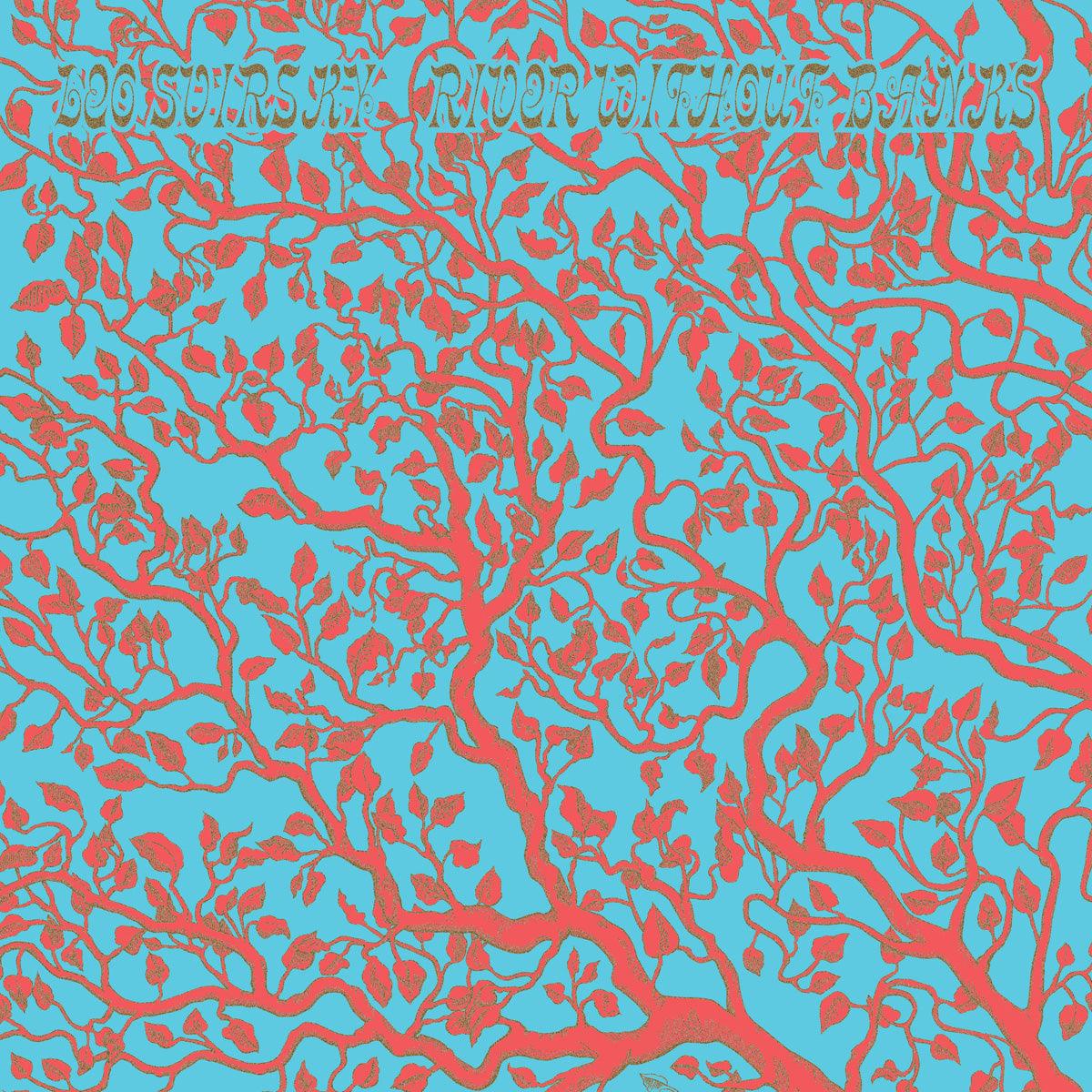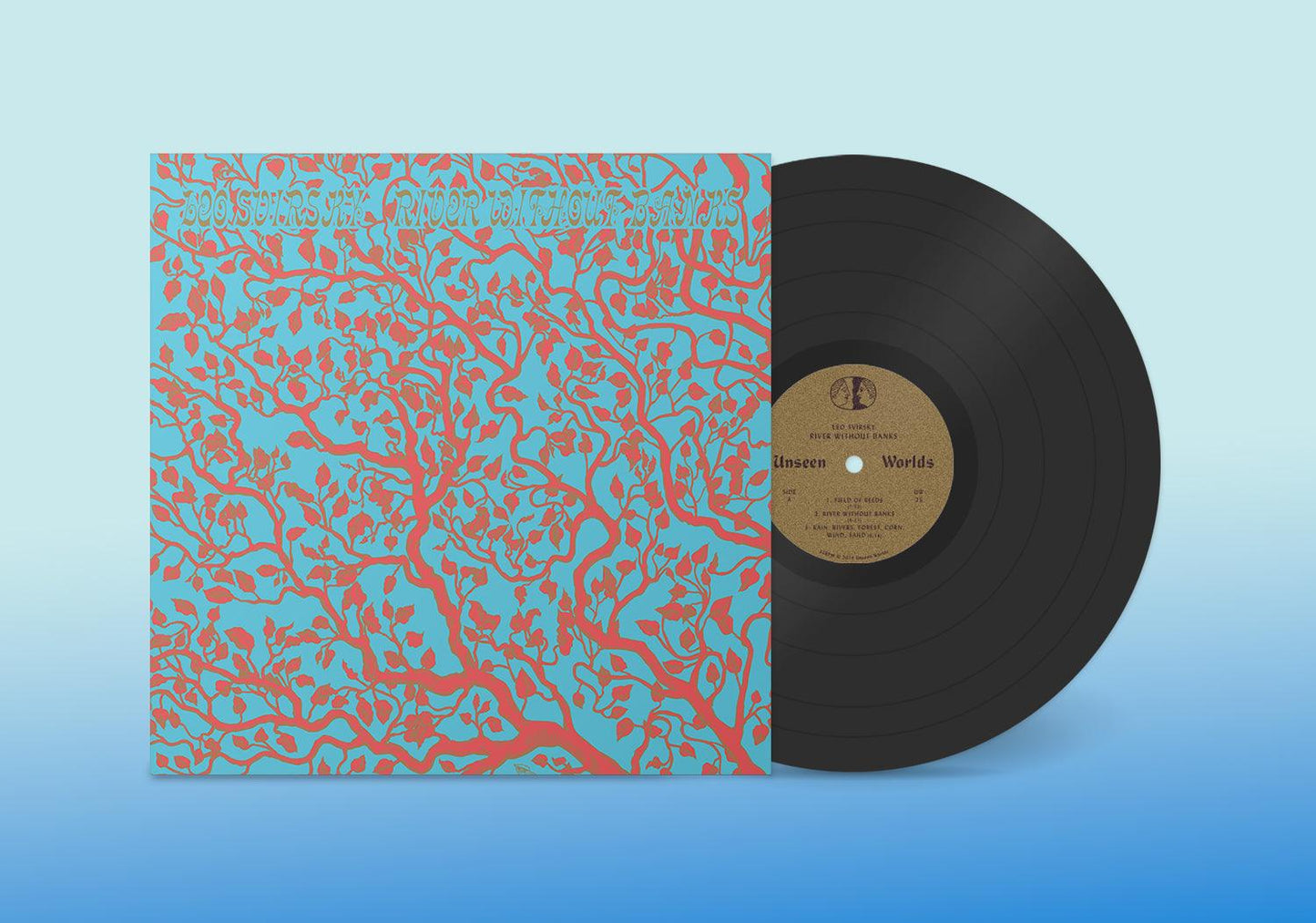 "How to begin? No beginning... never ending reverberation," Antoine Beuger writes in the accompanying notes to Leo Svirsky's River Without Banks. Dedicated to his first piano teacher Irena Orlov, River Without Banks is a mesmerizing, emotional collection of pieces that are simultaneously complex and fluid. The title River Without Banks comes from a chapter of musicologist Genrikh "Henry" Orlov's profound work Tree of Music. In said chapter, Orlov traces the history of sacred music from the Western and Eastern tradition and how the forms (of the chant, raga etc.) sought to eliminate the division between the physical and the spiritual—the bank and the river. Arranged for two pianos with accompaniment from strings, trumpet, and electronics, this is Svirsky's deepest dive yet into the instability of listening and its transformation of musical semantics and affect. Like Wolfgang Voigt's Gas project, Svirsky overlays romantic musical gestures to create a lush unfamiliarity. No sooner than each track begins the next moment unfurls beneath it, cascading time and blurring perception of past and present. River Without Banks is less an album of songs than songs of a singular, unlocatable album. Performed by the composer with assistance from Britton Powell, Max Eilbacher, Leila Bordreuil, Tim Byrnes, and recorded by Al Carlson.
Press
"a significant new work that taps into a rich vein somewhere between Charlemagne Palestine's sustained ecstasies, Steve Reich & the beatific glory of Alice Coltrane" - Boomkat
"these half-dozen tracks are about as tender and meditative as contemporary classical composition gets." - Bleep
"An American pianist and composer based in The Hague, Svirsky's rapturous music often comes across like an electronically-augmented update of Debussy or Ravel. Hints of Lubomyr Melnyk, too. A serious new player in the post-classical space." - John Mulvey, Mojo
Track List
DIGITAL TRACK LIST
1. Field of Reeds (7:53)
2. River Without Banks (4:13)
3. Rain, Rivers, Forest, Corn, Wind, Sand (6:18)
4. Trembling Instants (5:11)
5. Strange Lands and People (10:14)
6. Fanfare (after Jeromos Kamphuis) (07:31)
Credits
Recorded, mixed, and mastered at Gary's Electric, Brooklyn, New York
Engineered by Al Carlson, assistant engineer Robbie Aceto, June 25-27, 2017
Mixed by Al Carlson, with Leo Svirsky and Britton Powell, July 5-7th, 2017
Additional mixing by Al Carlson August 2017
Mastered by Al Carlson April-May 2018
Produced by Leo Svirsky and Britton Powell
Thanks to Reinier van Houdt, Douglas Hock, Theo Nobel, Adrian Rew, CV and
JAB, Adam Markiewicz, The Wallet, Rye Curtis, Winston Case, Davindar Singh
and Siiv Brun Lee, Emily Moore, Bronne Keesmat, Wouter van Haelemeesch,
Cornelis de Bondt, and to my family Larisa, Janet, and Roman Svirsky
All compositions by Leo Svirsky
Written between 2013-2017 in The Hague, Bucharest, Rockville, and NYC
Leo Svirsky: piano(s), Tibetan singing bowl (2, 4), Wurlitzer (4)
Britton Powell: Upright Bass(es) (2, 3)
Max Eilbacher: windy gong (1,3,4)
Leila Bordreuil: cello (2)
Tim Byrnes: trumpet(s) (3)
Artwork by Ana Smaragda Lemnaru
All compositions ℗ Leo Svirsky (ASCAP)
Leo Svirsky (b. 1988, USA) is a Russian-American pianist and composer currently based in the Hague, Netherlands. His music explores the instability of listening and the disorientation of memory and affect while remaining grounded in history and symbol, song and story. His varied musical interests have led to performance situations as diverse as Richmond VA's Cat Mansion, the Kremlin Armoury, and the Cathedral of Nantes.

Raised in the suburbs of Washington DC, at age 9, he began piano studies with the eminent Russian pedagogue Irena Orlov, herself a student of Nathan Perelman, one of the last representatives of the philosophical and free-spirited St. Petersburg (Leningrad) "school" of piano playing. The study of piano led to an interest in Soviet and post-Soviet "unofficial" culture, "forgotten" pieces from the 20s like Shostakovich's Aphorisms, and avant-garde music of the 70's and 80's like the Sonatas of Tatiana Voronina and Galina Ustvolskaya, always with a wealth of personal stories and anecdotes, most of which were not public information.

Irena was married to the preeminent Soviet musicologist, Genrikh "Henry" Orlov, one of the first to publicly discuss the 4th Symphony of Shostakovich in the USSR. Following his death in 2007, Irena gave Leo the unpublished English language manuscript of Orlov's philosophical work, The Tree of Music. The encounter with this book led to an even sharper divergence from the typical American musical education. The focus became the search for the music behind and beyond the score, to an interest in (other)world musics, in particular (though certainly not exclusively), north Indian dhrupad, Shona mbira music, and pan-African "Creative Music". A powerful early experience was a series of two concerts with Marshall Allen (at 95 and counting, the current leader of Sun Ra's Arkestra!), and Elliot Levin together with Dr. Thomas Stanley (author of the Execution of Sun Ra).

In 2009, Leo moved to Netherlands to study with the late Dutch pianist Rian de Waal at the Royal Conservatory of the Hague. De Waal was himself a collaborator of other exponents of the "St. Petersburg school." Following a chance attendance of a "Studium Generale" with John Oswald (plunderphonics!), Leo began years of composition lessons and shared philosophical reading with the Dutch composer and writer, Cornelis De Bondt, initially on Cornelis' own time.

He holds Masters Degrees in both Composition and Piano Performance from this institution, where he also studied with Martijn Padding (composition), and Ellen Corver (piano).

Living in Europe allowed Leo to further his exploration of "creative" music, recording with luminaries such as Veryan Weston (UK) and Katt Hernandez (Sweden). It also made possible many varied collaborations with the musical community associated with Edition Wandelweiser, notably Germaine Sijstermans, Jeromos Kamphuis, Johnny Chang, Rishin Singh, Jack Callahan (Die Reihe) and many others.

Some notable recent collaborations include bringing the music of the late Belgian composer Dominique Lawalrée to the stage together with the composer (documented in Dominique Lawalrée 1.10.17), and a reworking of Christina Vantzou's Pillar 3  together with the artist and Echo Collective.

River Without Banks was released on Unseen Worlds in 2019. It's title is taken from a chapter in Genrikh Orlov's Tree of Music, in which he describes the experience of listening to the chant It is to be immersed with, not operated upon, for being, not for doing... It is not expected to lead back to where it started, but instead it leads forward, to an unknown yet anticipated point in the future...