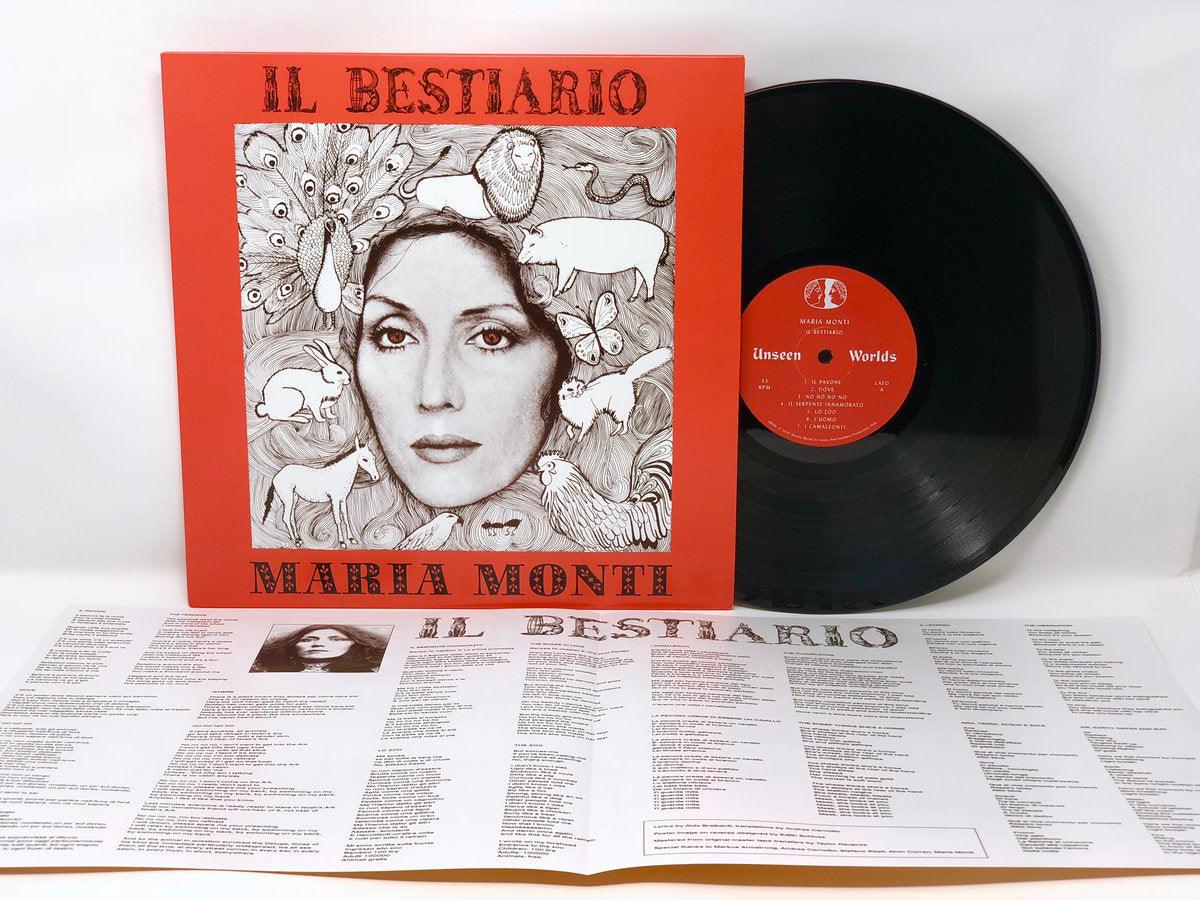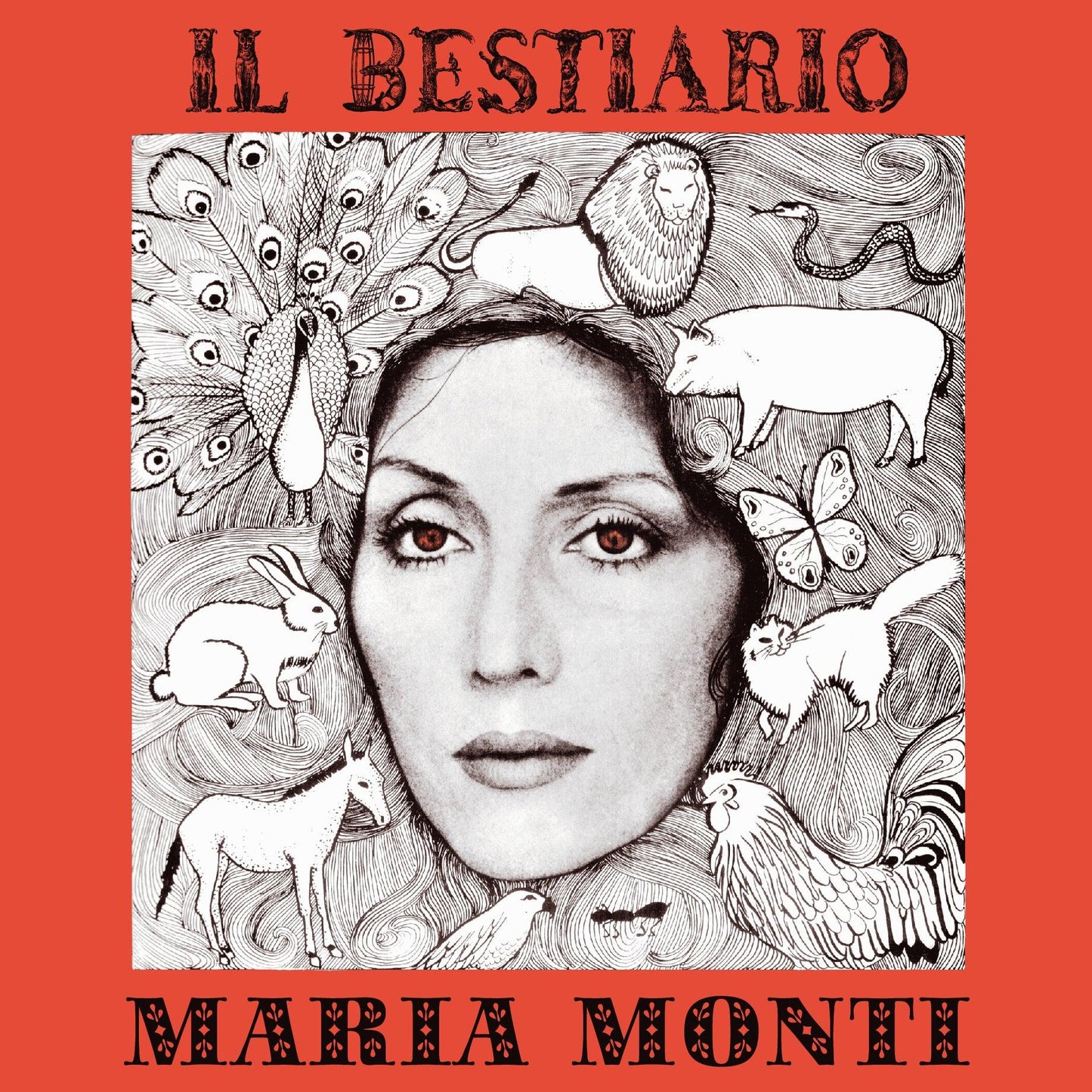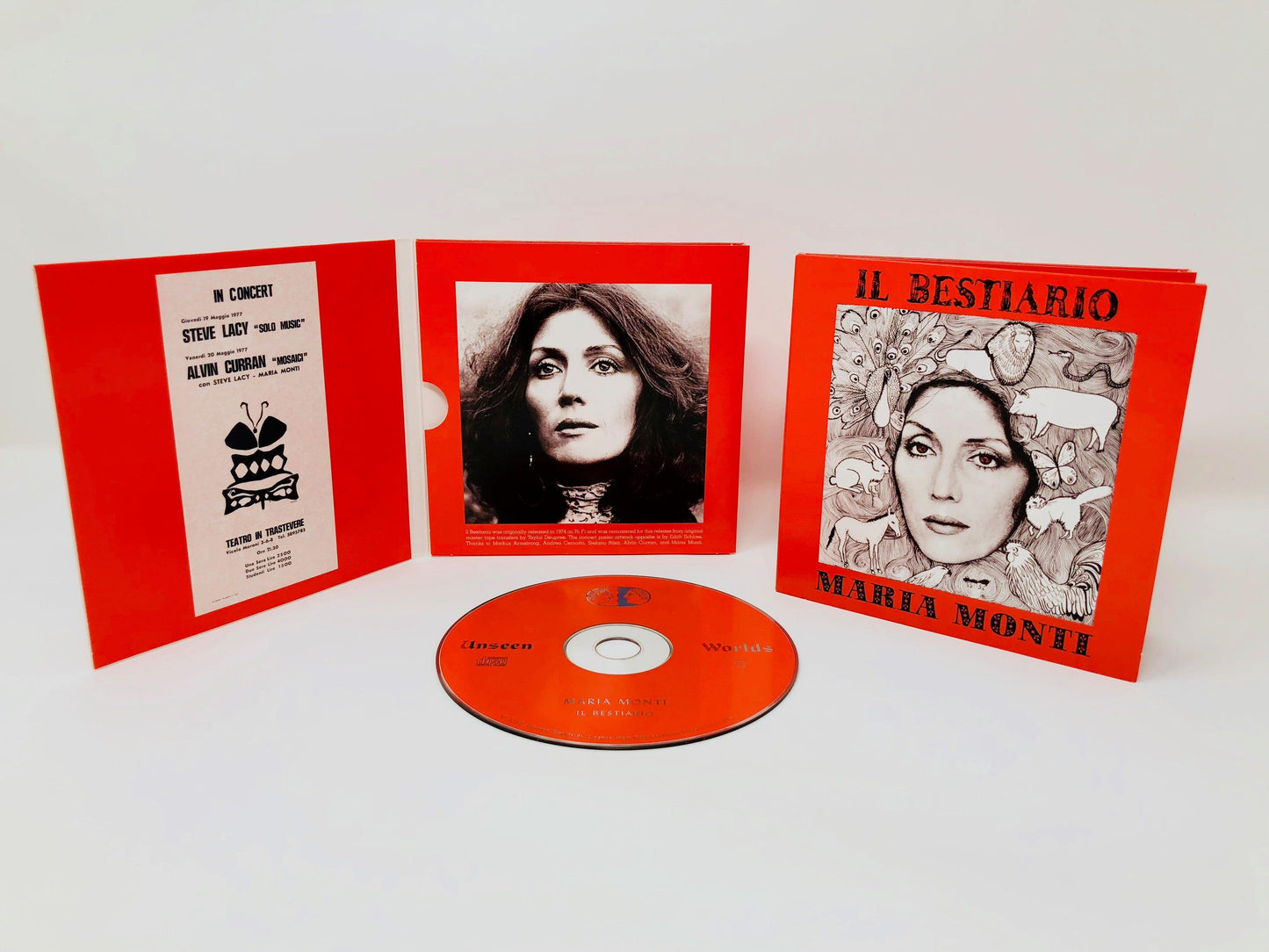 First time available since its original release on the Italian Ri-Fi label, Maria Monti's 1974 LP, Il Bestario, is a rare item even in its native country. Monti is an Italian singer and actress with a noteworthy career, performing as a cabaret singer in the 60s, an ambitious avant-garde folk artist in the 70s, and starring in films by directors such Sergio Leone (Fistful of Dynamite) and Bernardo Bertolucci (1900) all the while. In addition to lyrics by the infamous poet Aldo Braibanti, Il Bestiario features arrangements and synthesizer from legendary avant-garde composer Alvin Curran, as well as the soprano saxophone of jazz-great Steve Lacy. The music of Il Bestiario is a prime example of "the new art-song" of the 1970s, as Alvin Curran calls it – lush, dynamic and full of intelligence and beauty.
Sourced from the original master tapes and remastered by Taylor Deupree.
Press
"Beginning with the blend of precise, beautiful acoustic guitar, swirl synthesizer courtesy of Curran, and Monti's own cool, gently controlled singing on "Il Pavone" -- a performance that alone seems like something Stereolab were taking plenty of notes from -- Il Bestiario moves from strength to strength with calm grace. If "Dove" shifts the style toward a turn in the spotlight on a jazz-pop note, Lacy's soprano saxophone provides a soaring but never overbearing part to match Monti's own, and from there Il Bestiario takes a constantly restless path, one song never quite predicting where the next might begin and then continue. Throughout, Monti engages each song in an almost kaleidoscopic range of styles" - Ned Raggett, All Music Guide
"an elvish musical theater bathed in moonlight, describing a nocturnal patrol of exotic menageries brimming with wild creatures and mystical goings on" - Spencer Grady, Jazzwise
Track List
LP TRACK LIST
A1. Il Pavone (6:01)
A2. Dove (3:40)
A3. No no no no (2:58)
A4. Il serpente innamorato (2:30)
A5. Lo zoo (2:52)
A6. L'uomo (2:55)
A7. I Camaleonti (2:46)
B1. La pecora crede di essere un cavallo (4:33)
B2. Il Letargo (8:08)
B3. Aria, terra, acqua e fuoco (10:45)
Maria Monti was born on June 26, 1935 in Milan, Lombardy, Italy as Maria Monticelli.

Maria Monti began her career as an actress performing in the first half of the fifties in the first Milanese cabarets, presenting her own songs. She then entered the company of Ugo Tognazzi and Lauretta Masiero, acting in 1955 in A Scandal for Lilly ; in the same year she made his first appearance on television, in the show Primo Applauso.

In the following decades, however, she oftene work with Paolo Poli , among others in the comedies Il candelaio (season 1964-1965) and Il diavolo (season 1972-1973). In 1959 she acted, again for television, in the telefilm The dangerous turning point by Gianni Bongioanni . In 1960 together with his then partner Giorgio Gaber she wrote Non arrossire, a famous piece reinterpreted by many artists (including, in 2006, Claudio Baglioni ).

Always paired with Gaber, she participated in the Sanremo Festival 1961 with the song Benzina e cerini (written by Enzo Jannacci); in the same year she appeared with Gaber the show Il Giorgio e la Maria in which, in addition to presenting their songs, they sing some popular Milanese songs such as La balilla . The same year she published the single "A perfect crime of love" written by Gaber and arranged and directed by Ennio Morricone.

Di Jannacci also performed the song Me disen madison in 1962 . In 1966 she performed at the Teatro Duse in Genoa with the show Il rosa e il nero by and with Carmelo Bene based on Il Monaco by MG Lewis. For the occasion Sylvano Bussotti, with the electronic orchestrations of Vittorio Gelmetti, drew up the scores for her voice.

In the sixties and seventies she recorded various political and feminist albums. Le canzoni del diavolo (1965) was seized throughout Italy because it contained the song La marcia della pace (written by Franco Fortini and Fausto Amodei), whose verses were judged as subversive, as an invitation to conscientious objection . The album also contained a version of the poem Lullaby of War of Trilussa set to music by Monti.

In 1971 she acted in Giù la testa by Sergio Leone, and in 1976 in Novecento by Bernardo Bertolucci. Also in 1971 she made a double LP for the Fonit Cetra folk series, directed by Giancarlo Governi, dedicated to traditional Milanese song "Memoria di Milano". It was presented on television during an episode of Tutto è Pop, by Vittorio Salvetti. In 1972, she played the role of herself as a singer in the film Imputazione di omicidio per uno studente by Mauro Bolognini, where she interprets songs taken from her folk repertoire.

In 1973 she recorded the album Maria Monti e i contrautori, cover created by Mario Convertino, with the musical accompaniment of the Turin guitarist Luca Balbo and Gianfranco Coletta (musician who, during his career, was part of many groups, such as Chetro & Co , Banco del Mutuo Soccorso and Alunni del Sole ). 1974 was the year of publication of Il Bestiario , made with musical bases between jazz cabaret and electronic minimalism, with the participation of internationally renowned musicians including Alvin Curran, electronic arrangements and instrumentation, and Steve Lacy on soprano sax.

In 1975 she released the live album  Bologna 2 settembre 1974 (dal vivo), with Francesco De Gregori, Lucio Dalla and Antonello Venditti. In 1976 she participated as a guest in the television program, l futuro dell'automobile, by Lucio Dalla , with whom she sang La balilla . The following year, RAI will give her the opportunity to try her hand at a one-hour starring program: "Non è solo un caso" is the title of the special where some of her songs were presented live and in special videos.

Guest of the program Alvin Curran with whom she re-proposed Il pavone e La pecora believes to be a horse from Il Bestiario and the avant-garde piece "Mosaics", already presented, in the same year, at the Festival of two worlds in Spoleto. Two still photos from the program were used for the cover, front and back, of the Muraglie LP . In 1977 she is one of the voices of the Prima Materia group led by Roberto Laneri that participates in the "Teatro Musica" festival, and with which she publishes a single album, The Tail of The Tiger, which presents two long pieces performed on vocals using harmonic singing techniques.

In 1980 she was the female protagonist of the comedy Operetta by Witold Gombrowicz, the social worker Verdiana in the scandal-film La ragazza di via Millelire by Gianni Serra.

In 1981 she participates with other artists in the recording of the rock opera Alice by Perigeo. In 1993 she released a CD album, Oltre ... Oltre ..., an experimental album.

In 1990 she took part in the Todi Festival where she made his debut with Maria d'Amore by Maria Monti, directed by Patrick Rossi Gastaldi . In 1994, as part of the manifestation of the second edition of "I solisti del Teatro", in the Gardens of the Filarmonica in Rome, she presented Monade di Monza by Maria Monti. At the piano Marco Persichetti. Direction coordination Luisa Mariani. In 1999 she participated in the theatrical show Luci di Algeri . In recent years she has acted for television in Vento di ponente , with Serena Autieri .

2005 is the year of the monologue I sing to myself , written by Renata Ciaravino . In 2006 she presented the show Il mostro a due testa , directed by Claudio Frosi and piano accompaniment by Marco Persichetti in Italian theaters. In 2017, on February 6, Maria Monti returned to the scene after eleven years of absence at the Arciliuto theater in Rome  to present her next CD, Sprazzi di pace .