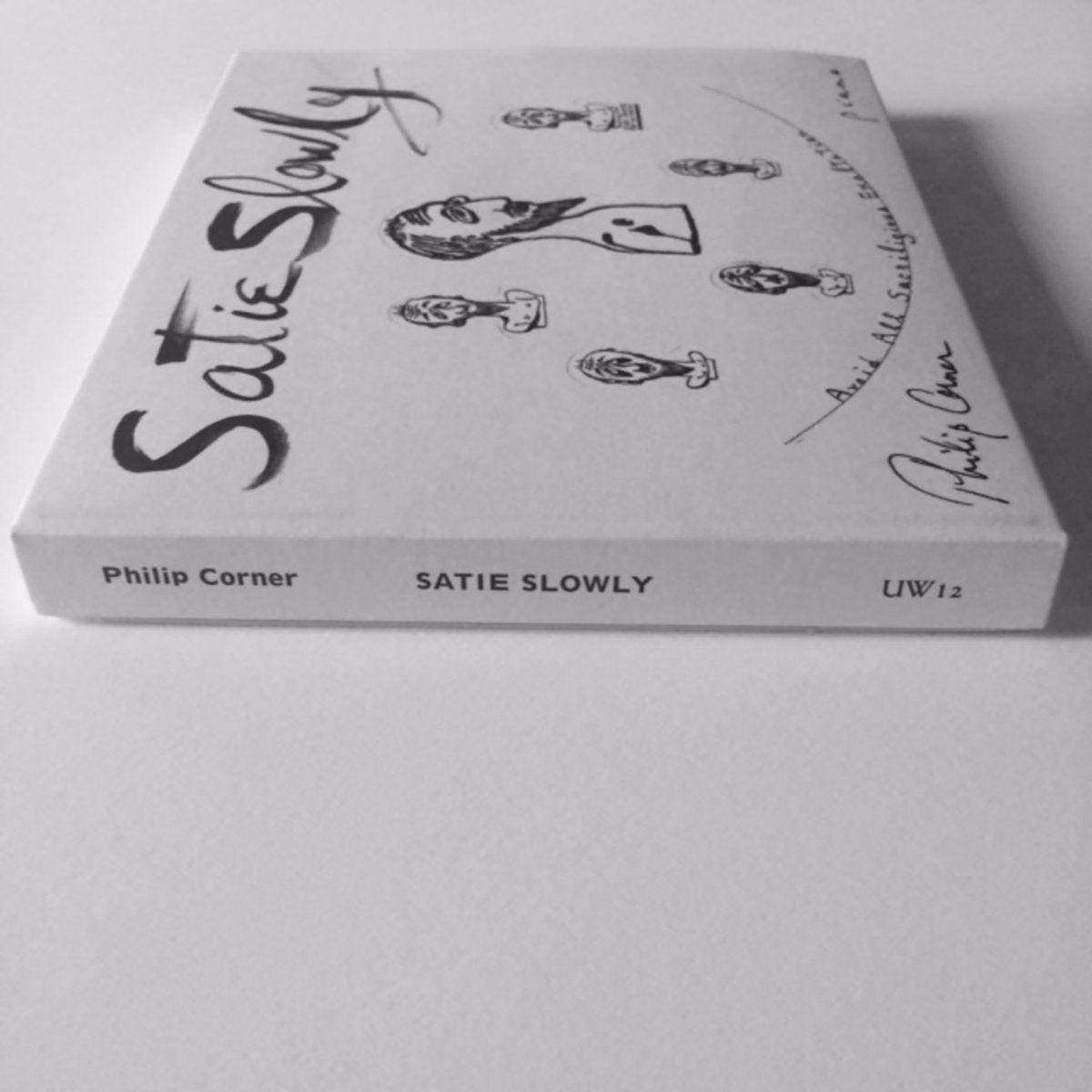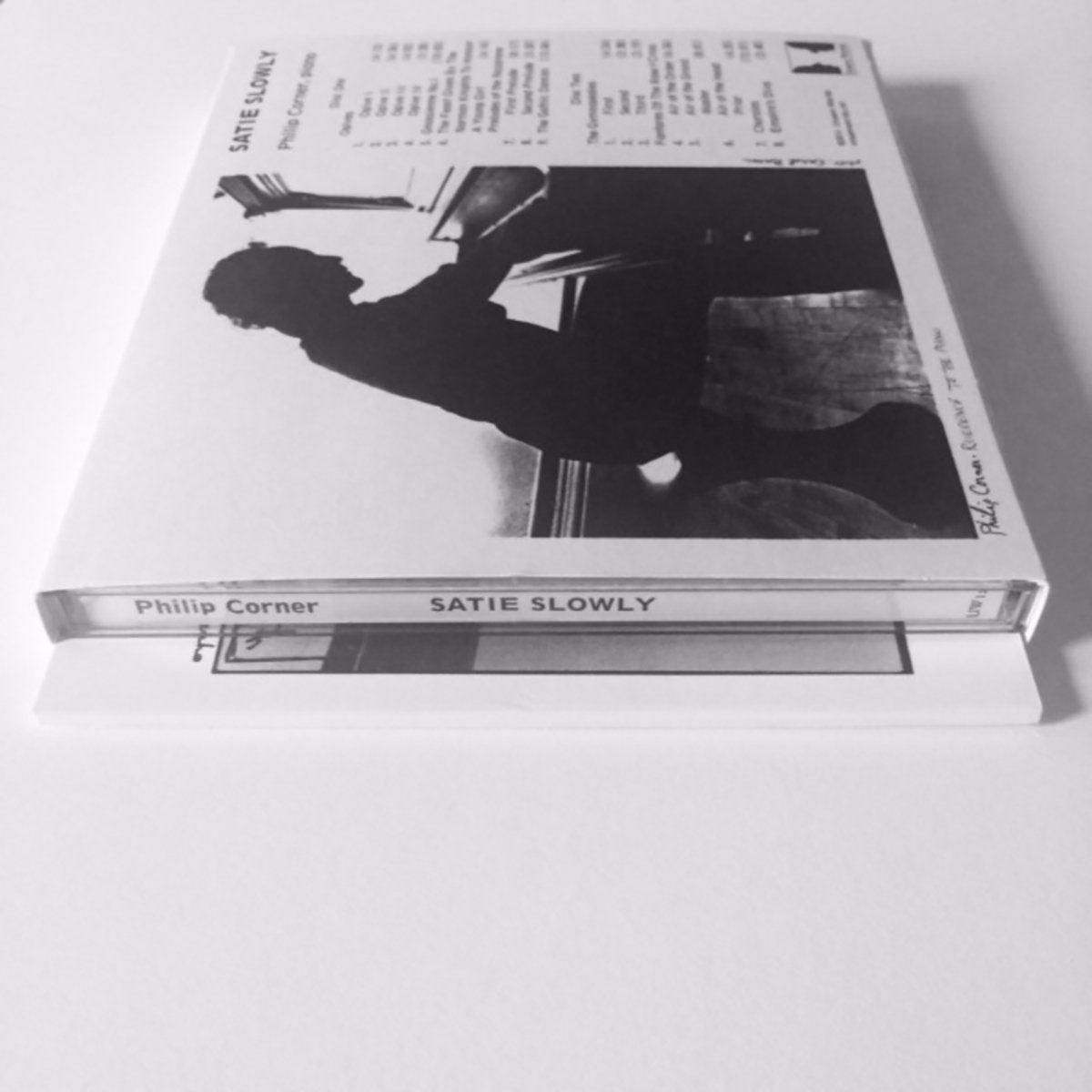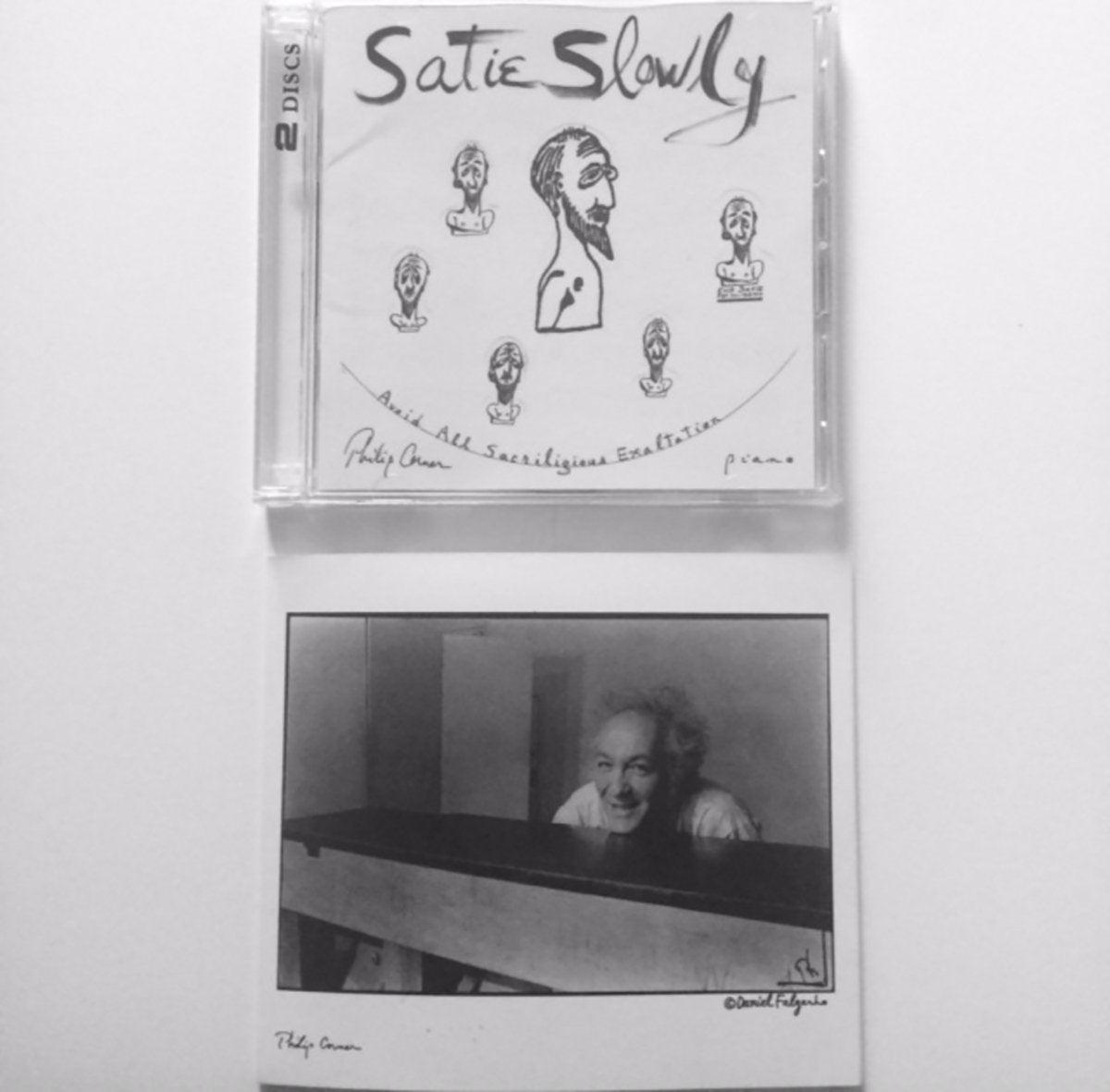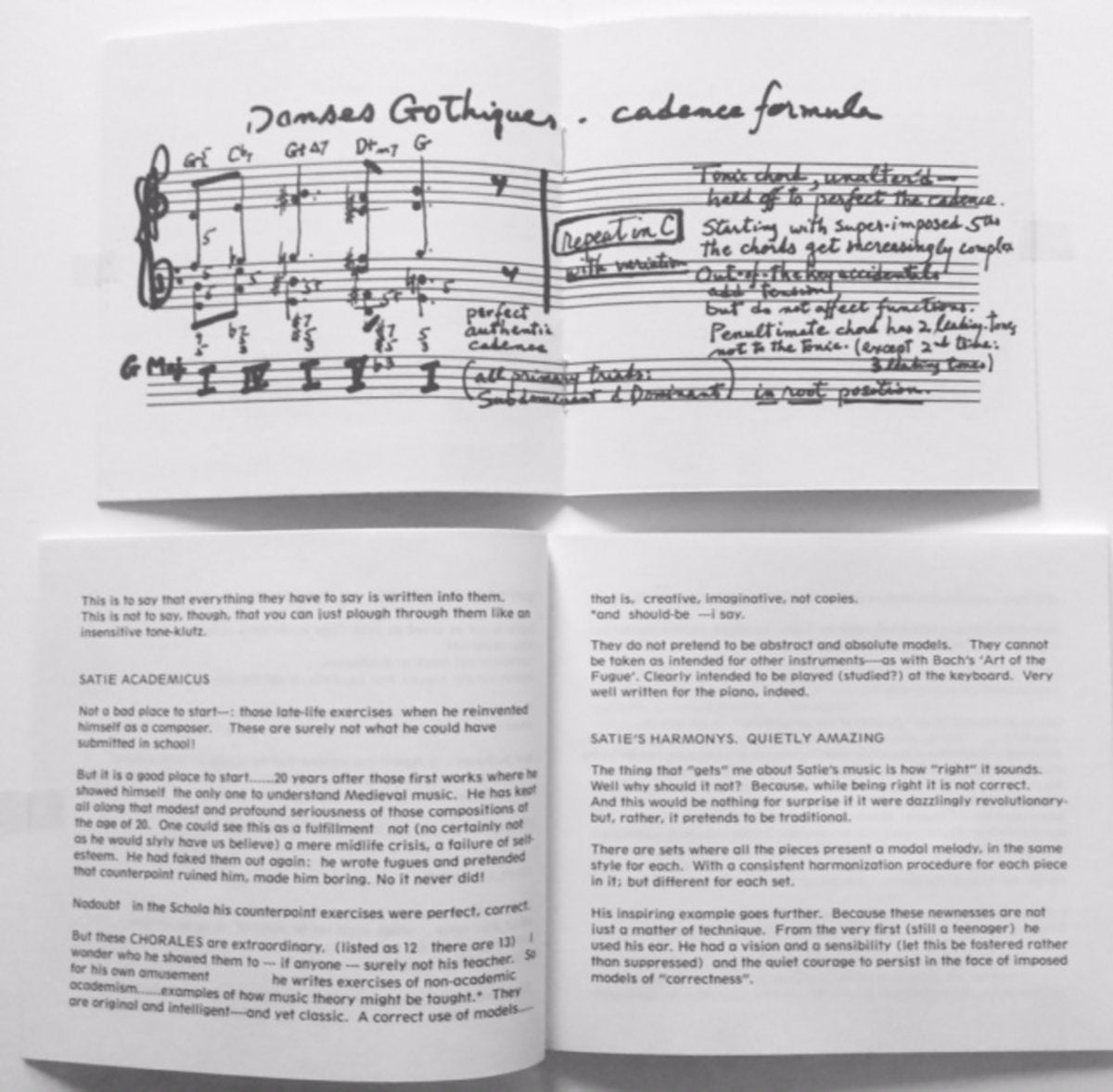 American composer Philip Corner likes Satie too well not to object to how he is played. From the time of his participation in the first performance of Satie's "Vexations" he realized that here was, lurking under the travesties of the 1st Gymnopédie, one of the greats of this or any other century... a "secret genius" who masked with humility and seeming conformity a profoundly innovative thorough-going critique of the limitations and pretensions of our High Culture as it has come down to us. A 44 page booklet of commentary and and additional 16 page booklet of graphic analyses set out to demonstrate this - with implication for performance of the works. As the record title "Satie Slowly" shows, the indication "lent" is taken at its full value. An ample selection of piano pieces, spread across 2 CDs, come from his early period, music with great spiritual content.
Press
"His confident touch, coupled with resonance respectfully allowed to linger, brings out the lucidity of Satie's melodic lines, their relentless clarity, while savouring the surprises of his harmonisation - a shadow that introduces unexpected mass, a telltale glint that effectively undermines the composition's chasteness, or perhaps a minor addition that hints at a major enigma. Satie "used his ear", Corner observes, with the outcome that his music is "right" rather than "correct" . In preparation, he may have dedicated long hours to structural analysis of Satie's scores, but in practice his piano playing takes the ear as its guide and gets it resoundingly right." - WIRE
"Pianist Philip Corner slows down Erik Satie and shows where Philip Glass, Terry Riley and Steve Reich came from ... Hearing Satie's "Ogives," it is hard to believe that these pieces were composed a half century or more than Glass' Piano Music. ... Corner's playing is deliberate and intense, produced with the effort of restraint. This affects Satie's compositions as if seen through a crisp magnifier shining light on every crevasse and crack present." - All About Jazz
"Perhaps the time for Erik Satie has really come at last. Even decades ago his music was part of a coffee commercial, there were synthesizer arrangements, new age versions, he was loved especially for his lyric wonder, the first of the "Gymnopedies". But in the deepest caverns of the canon-creating machine he was an important precursor of the impressionists more than a force in his own right. All that changed, slowly. John Cage's "Cheap Imitation" and his championing of Satie in general certainly helped. The marathon performances of the potentially endless "Vexations" and the recognition of that and his "Furniture Music" as the first minimalist works perhaps did as much or more. And now in a world where post-modernism and radical tonality seem to connect often enough to Satie's original sense of untraditional tonal works, all that seems to have brought him even further to the front as a father of the music of today. His fabulously eccentric music turns out to be much more avant garde than we realized, even if it has taken 100 years for us to get there. Philip Corner's two-CD set of Satie's piano music, Satie Slowly (Unseen Worlds UW 12) brings us further revelations. Maestro Corner has chosen some of the very familiar pieces but also some traditionally seen as a bit more "problematic". He takes them all at a crawl, very slowly, and it turns out we hear the music anew." - Gapplegate Classical-Modern
"Since Cage declared Satie "indispensable" and the increasing ubiquity of music as furniture, Satie's reputation has steadily grown, and Corner's performance, along with accompanying rhetoric, brings a fresh relevance and viscerality. Off the bat, while Satie Slowly certainly contains the slowest version of the First Gnossienne (at 10+ minutes versus a standard 3-4), it is not quite the "none slower" performance Satie aficionados might expect. Ulrich Gumpert issued a similarly slow-pitched Satie album back in 1995, performing much of the same material (Gothic Dances and Preludes du Nazarene), and some of Reinbert De Leuuw's recordings for Phillips, particularly the Gymnopedies, creep slower than Corner's. Nonetheless, there's nothing remotely fast here, and beyond tempo, Corner's 'slow' takes in all that that adverb positively connotes: contemplation, concentration, restraint and, behind the scenes, studious rigour." - Cyclic Defrost
"How much more slowly pianist Philip Corner renders Satie's material on this double-CD set becomes most audible, naturally, during the performances of the French composer's more familiar pieces. A case in point is Corner's treatment of "Gnossienne No.1," which at ten minutes is conspicuously longer than both a six-minute version by Reinbert de Leeuw and a seven-minute one by Ulrich Gumpert. Corner's seemingly extreme approach isn't rooted in perversion, however; with respect to this particular piece, he writes, "I think the tempo must find that exact point where movement forward may be implicit yet timelessness is not violated." His reading of "Gnossienne No.1" strikes an interesting balance: on the one hand, the tempo slows to such a crawl that the melodic line, stretched thin, feels close to withering away; yet on the other, the notes aren't so separated from one another that the melodic thread is lost. The piece plays as if Corner's performing an autopsy, with every small part dissected and held up for inspection." - Textura
"Corner brings out all the weirdness by, yes, playing Satie's pieces very slowly indeed. Sometimes they feel like chords just hanging in the air, with little to no logic connecting one to the next, but like the best ambient music, the magic is cumulative, and after a few minutes of this your mind starts to wander into some odd places. No, it's not all fractals and hyper-dimensional space travel, but that's the wonder of music when standard structures are dissolved: it can pretty much be anything you want." - FACT
"Philip Corner's playing is measured and conscientious, shaped by a continuous effort of utmost restraint. This gesture fully affects the compositions, not only highlighting their deliberate cracks and measured hesitations but also importantly connecting them to the achievements of later composers such as Philip Glass and Terry Riley." - Other Music
"There's a depth of profundity to Corner's ruminations and, even when you might not agree with them, you find his performances very difficult to argue, his take as valid as anyone's, often a good deal more so than everyone's. I'm sure he'll be called 'eccentric' by many, but that almost always means 'more intelligent and perceptive'." - Folk & Acoustic Music Exchange
"One could argue that French composer Erik Satie (1866-1925) perfected the art form of trolling everybody, and his oeuvre can be seen as a single middle finger to established tradition. The irony, though, is that his work is now considered to be quite beautiful and can often be found with the tag easy listening. So it seems about time that someone comes in to alter the way we hear Satie. Philip Corner, one of the pianists to play the first public performance of Satie's Vexations in 1963, does just that with his new 2-CD collection of Satie piano pieces, Satie Slowly, which, as the title suggests, consists of Satie pieces slowed down past the threshold of contemporary comfort." - AdHoc
"From "non-academic academicism" to a rejection of his time's "correctness," Satie, says Corner "did not change the world, Just added something to it." So too does Corner when he plays Satie. When, for instance, he plays Satie's "Gnossienne No. 1" he isn't kidding about the radical slowness of his tempo. This is virtually a different composer from the one the world has come to love. Whether anyone will want to get used to it is a different and difficult matter, but it is fascinating to read Corner and then hear how he performs Satie with so much radical difference." - Buffalo News
"Corner's written analysis of each piece reflects the personality of Satie's music. Critics during the time slandered Satie and called him a "petit maître" alongside Debussy and Ravel. He was not revolutionary in a flamboyant way but cloaked his visions in traditional forms reflected in the more obscure repertoire chosen for these CDs." - Christina Petrowska Quilico, The Whole Note
Track List
DIGITAL TRACK LIST
Ogive I (4:13)
Ogive II (6:36)
Ogive III (4:02)
Ogive IV (5:28)
Gnossienne No.1 (10:05)
The Feast Given By The Norman Knights To Honour A Young Girl (4:16)
First Prelude of the Nazarene (8:17)
Second Prelude of the Nazarene (5:20)
The Gothic Dances (13:06)
First Gymnopédie (4:24)
Second Gymnopédie (3:38)
Third Gymnopédie (3:19)
First Fanfare of the Rose+Cross – Air Of The Order (6:36)
Second Fanfare of the Rose+Cross – Air Of The Grand Master (8:01)
Third Fanfare of the Rose+Cross – Air Of The Head Prior (4:35)
Chorales (12:01)
Empire's Diva (3:48)
(April 10, 1933 - ) 

After The High School of Music & Art in New York City, Philip Corner received his BA (1955) at CCNY, where his most important teacher was Fritz Jahoda; and an MA (1959) from Columbia University where his composition teachers were Otto Luening and Henry Cowell, The two years in between (1955–57) were spent in Paris at the Conservatoire Nat'l de Musique, following the class "Philosophie Musicale" of Olivier Messiaen. Equally important was his friendship with the Canadian painter Paul-Emile Borduas, who introduced him to "la grande aventure nord-américaine", to which he returned and became part of the group around John Cage. At the same time he resumed his studies of the piano with Dorothy Taubman, which was to have a significant role in his compositional as well as performing life.

He taught Modern Music at the New School for Social Research from 1967–1970, inheriting the class founded by John Cage at double remove after Richard Maxfield, with whom he was teaching assistant, and Malcolm Goldstein. His teaching career started at a New York City high school and continued at the New Lincoln School where he helped develop the music department and introduced innovative courses (1966–1972). During this period he was married to the astrologer and trance medium Julie Winter who was also a minister in the Church of Religious Science, with which he too was associated, composing music to be sung at meditation sessions. From 1972 to 1992 he continued as professor at the newly established Livingston College, a part of Rutgers, the State University of New Jersey, soon to be absorbed into the Mason Gross School of the Arts. He then took early retirement and moved to Reggio Emilia, Italy where he had previous contact through the Pari e Dispari "Arte Club Internazionale". An early friend, the dancer and choreographer Phoebe Neville, joined him there and became his wife and performance partner.

He was a founding participant of Fluxus since 1961, was a resident composer and musician with the Judson Dance Theatre from 1962 to 1964 and later with the Experimental Intermedia Foundation upon the invitation of Elaine Summers, for whose dance company he served as musician. He co-founded with Malcolm Goldstein and James Tenney the Tone Roads Chamber Ensemble in 1963 (active until 1970), with Julie Winter Sounds Out of Silent Spaces in 1972 (active until 1979) and with Barbara Benary and Daniel Goode, Gamelan Son of Lion in 1976 (still active).