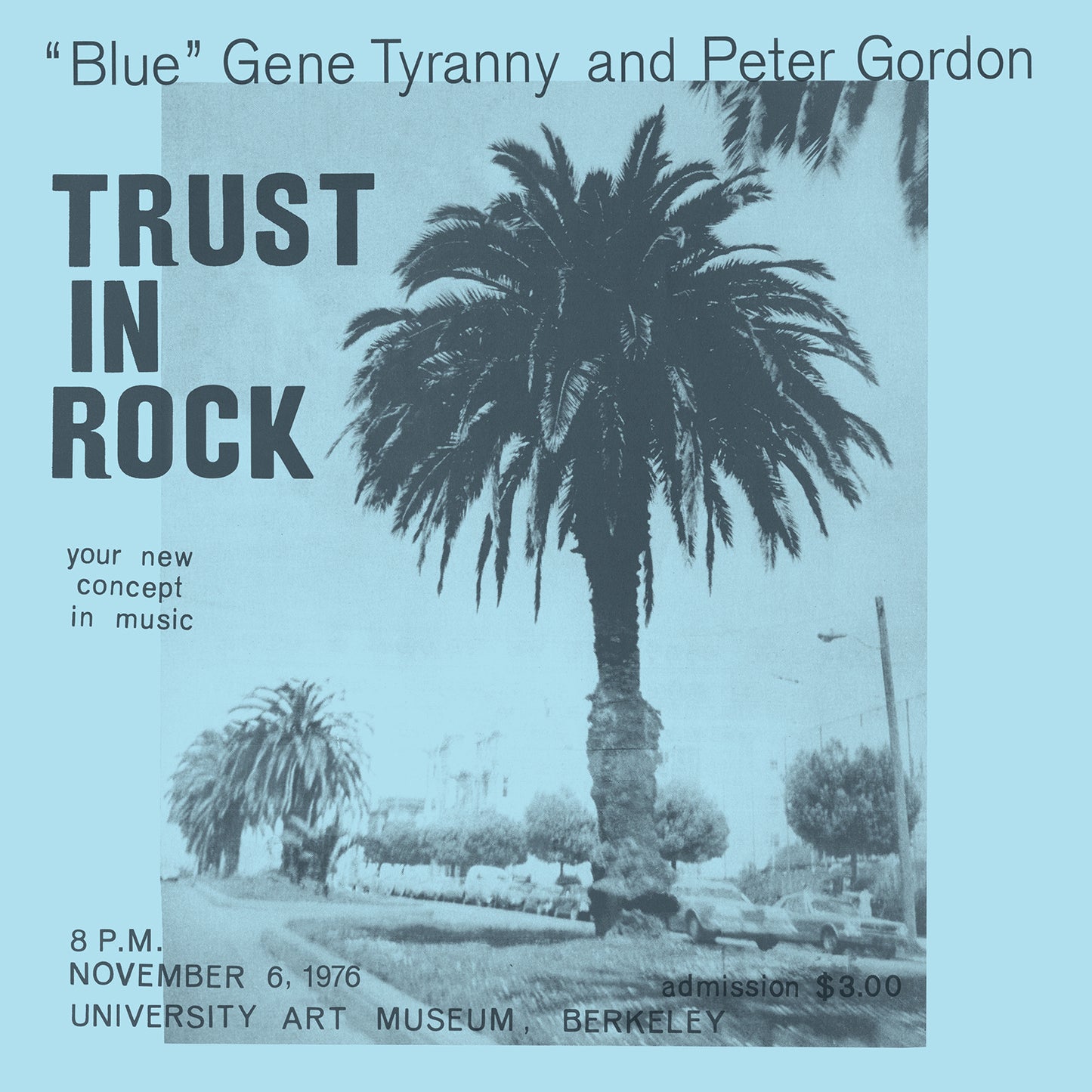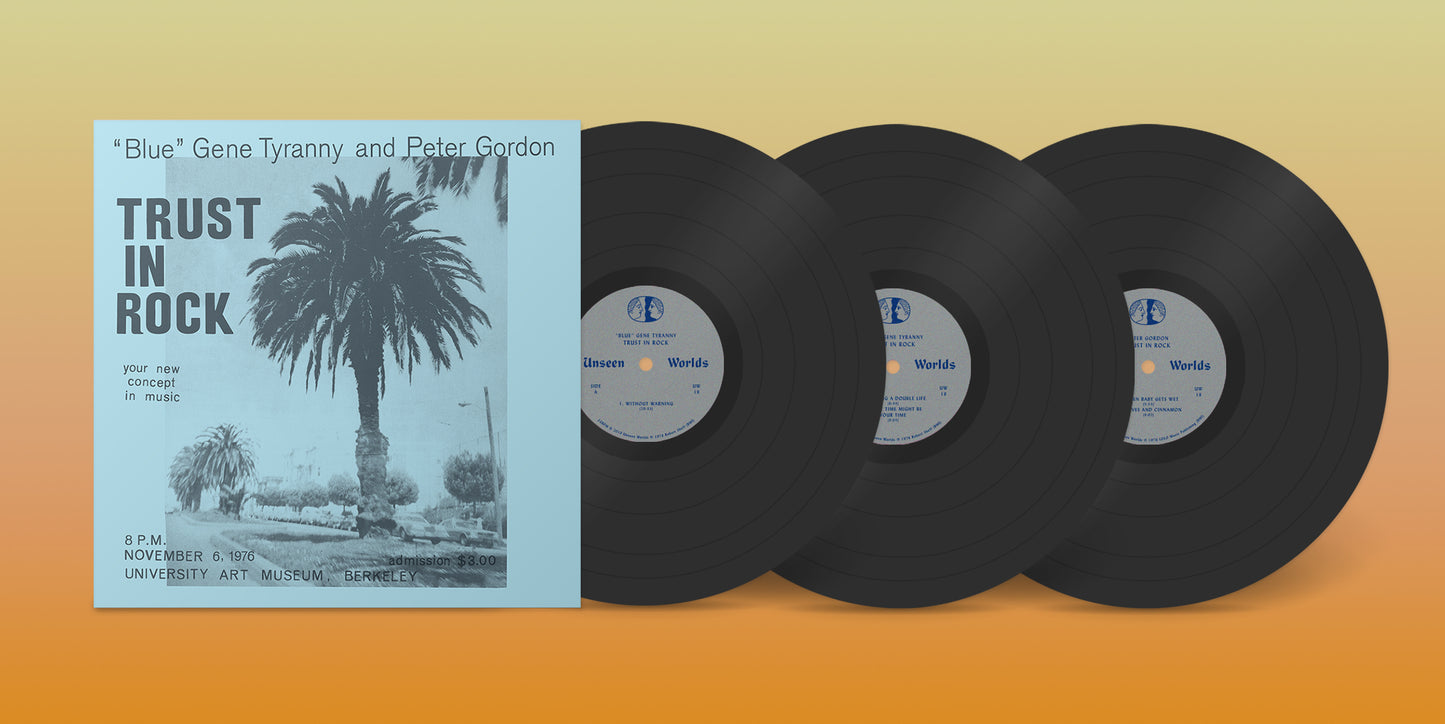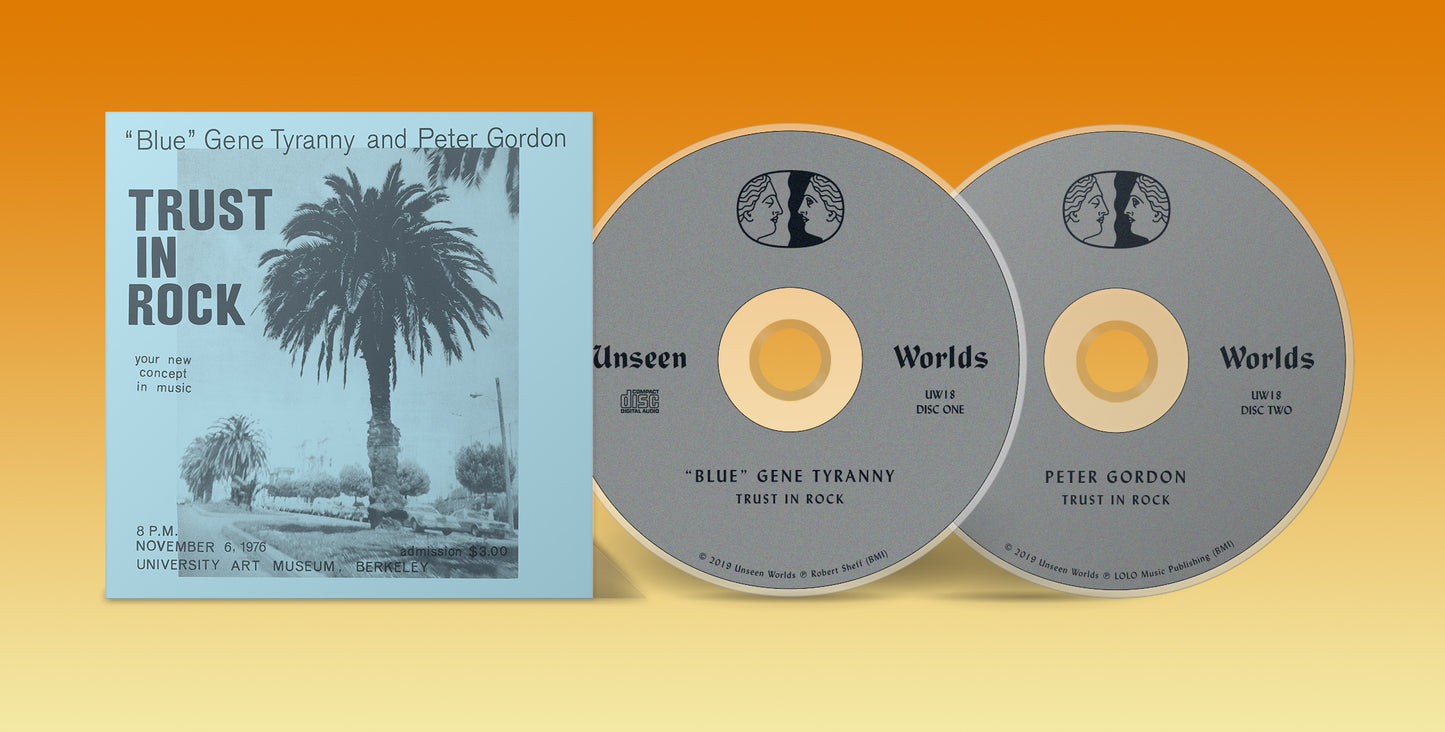 Trust in Rock documents the last evening of an epic concert series held at Berkeley's University Art Museum in November 1976, featuring an all-star ensemble of the Bay Area's most unclassifiable musicians performing works by "Blue" Gene Tyranny and Peter Gordon. Tyranny's cycle "No Job, No Warm, No Nothing" contains songs "concerned with influence, trust, self-reliance, and having to re-do what is true for you;" three songs by Gordon, with lyrics by Kathy Acker, are complimented by two earlier instrumental works. Their combined band crossed styles and institutions and time, and was assembled from the effervescence of the Bay Area scene in the 1970s. It included Gordon on saxes and the RMI Synthesizer; Tyranny on the piano; local video-performance artist Patrice Manget on vocals; Carl Young on saxes; composer-performer-guitarist Paul Dresher, who played in Tyranny's band Edge of the Road along with percussionist Gene Reffkin; Steve Bartek of the Mystic Knights of Oingo Boingo on bass; and Mills College student Janet Cuniberti on the funky Clavinet and RMI Synth. Though some of the works on Trust in Rock
also appear on Gordon's
Star Jaws
and Tyranny's
Out of the Blue
, many others are available here for the first time.
Trust in Rock
contains nearly two hours of what
Ear
magazine called "NEW MUSIC FOR ROCK BAND."
Except: by 1976, the idea of a capitalized "New Music" had increasingly lost its punch for Tyranny and Gordon. Rock and Roll, likewise, was nearing an apparent generational expiration. The way out of this impasse was trust in rock
, which was both description and command. Rock, for this all-star cast of Bay Area heads, became a perpetual revolution that could be serious, playful, polemic, focused, technical, and lovely. And you can hear it in the music: Tyranny's songs swing from intimate and profound to blissful and joyous, with solos on saxophone, piano, synthesizer, and electric guitar over interlocking rhythmic and melodic cells; an ecstatic performance of Gordon's "Machomusic" gives a single pitch the real Rock'n'Roll treatment; and Acker's lyrics on "God's a Man," "When Baby Gets Wet," and "Cloves and Cinnamon" pulse with transgressive sexual energy. This is neither New Music nor Rock as anybody had previously understood those terms, but something else entirely—a kind of transcendent synthesis that audibly reveled in its newfound energy.
Tyranny, Gordon, and their band played at, with, and through not only the generic boundaries of New Music and Rock, but also the stylistic boundaries of minimalism, jam bands, and punk. Tyranny had quit Iggy Pop's band in 1973; Gordon had already moved to New York and began playing with Arthur Russell and Rhys Chatham. That night in the University Art Museum, playing saxophones and and synthesizers, they were not afraid to trust in rock to get them where they needed to be. This was a band that was not afraid to "listen to the interior state of something," as Tyranny later put it: they put their trust in rock, and this album lets us hear what happened.
Press
"Imagine Steely Dan and Steve Reich jamming in the studio, or Terry Riley making In C with Linda Ronstadt, and you have an idea of the odd confections tucked into the set."
Track List
DIGITAL TRACK LIST
1. Without Warning (20:33)
2. Leading a Double Life (6:44)
3. On the Other Hand (20:36)
4. Next Time Might Be Your Time (9:04)
5. Machomusic (7:55)
6. God's a Man (11:04)
7. When Baby Gets Wet (5:53)
8. Cloves and Cinnamon (9:02)
9. Intervallic Expansion (27:28)
Credits
Patrice Manget: Vocals
Peter Gordon: Saxes, RMI, Mixing
Karl Young: Saxes, Winds
Paul Dresher: Guitar
Steve Bartek: Bass
Gene Reffkin: Percussion
Janet Cuniberti: Clavinet, Rmi
"Blue" Gene: Piano
Rich Gold: Live Mixing
Maggi Payne: Recording, Mixing
Mastered by Taylor Deupree

Cover adapted from an original flyer by Phil Harmonic. Photo by Pat Kelley.
Recorded live on November 6, 1976 – the last of a three night run at University Art Museum, Berkeley, CA


Tracks 1-4: Words And Music by "Blue" Gene Tyranny ℗ 1976 Robert Sheff (BMI)
Tracks 5-8: Music By Peter Gordon, Words by Kathy Acker ℗ 1973, 1975, 1976 LOLO Publishing (BMI)