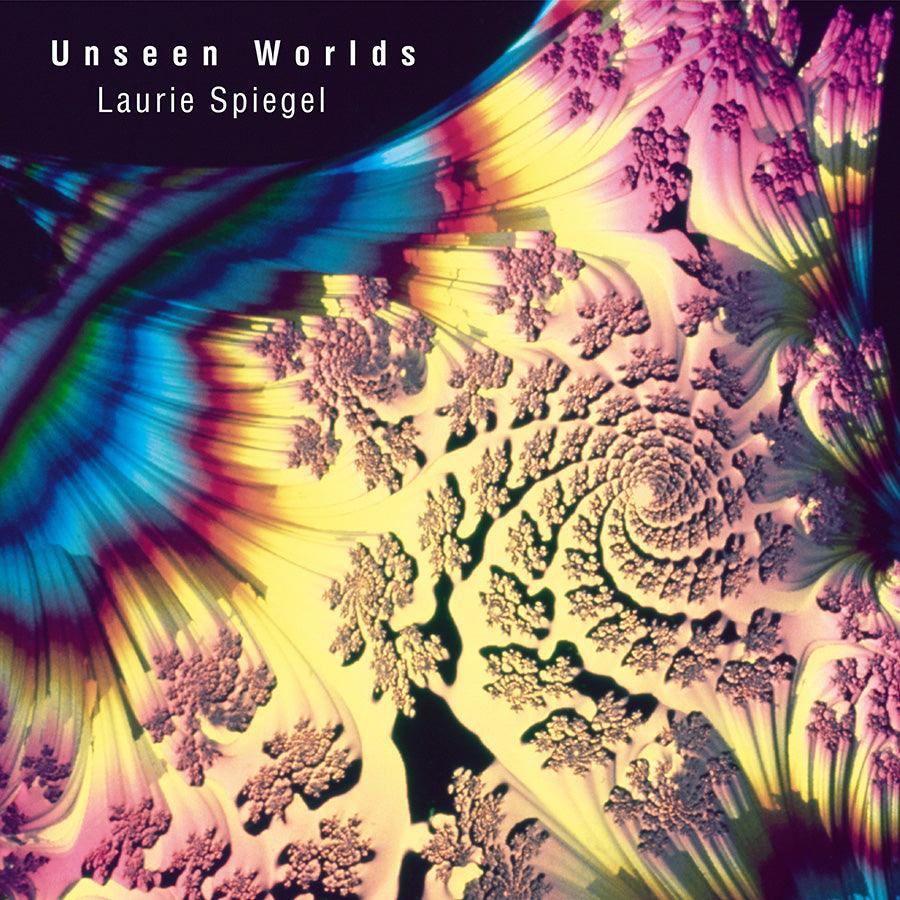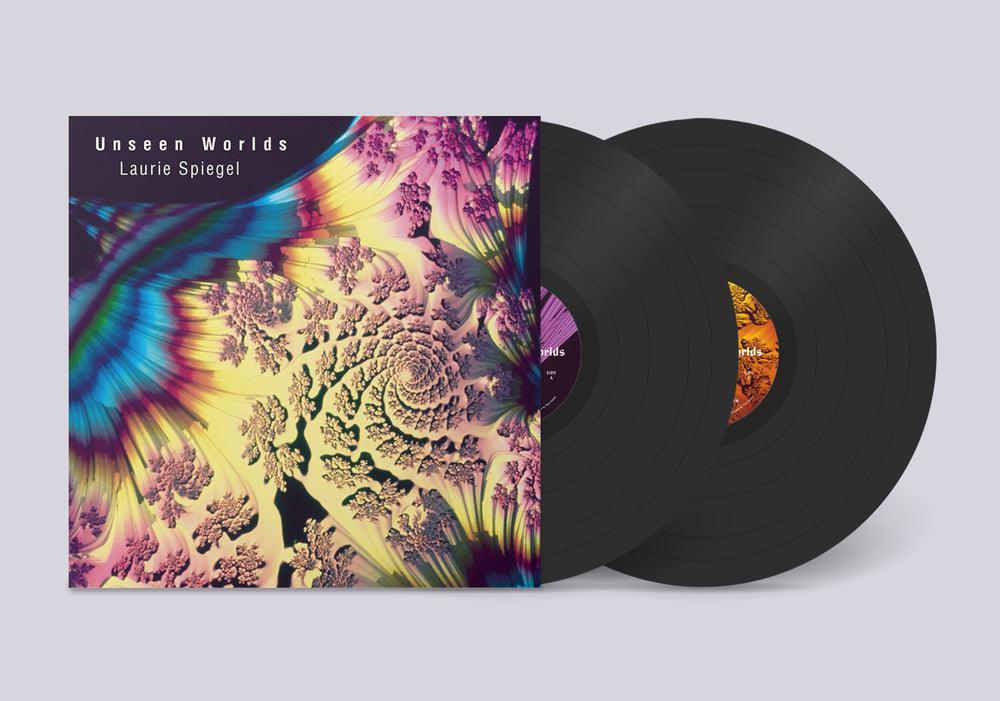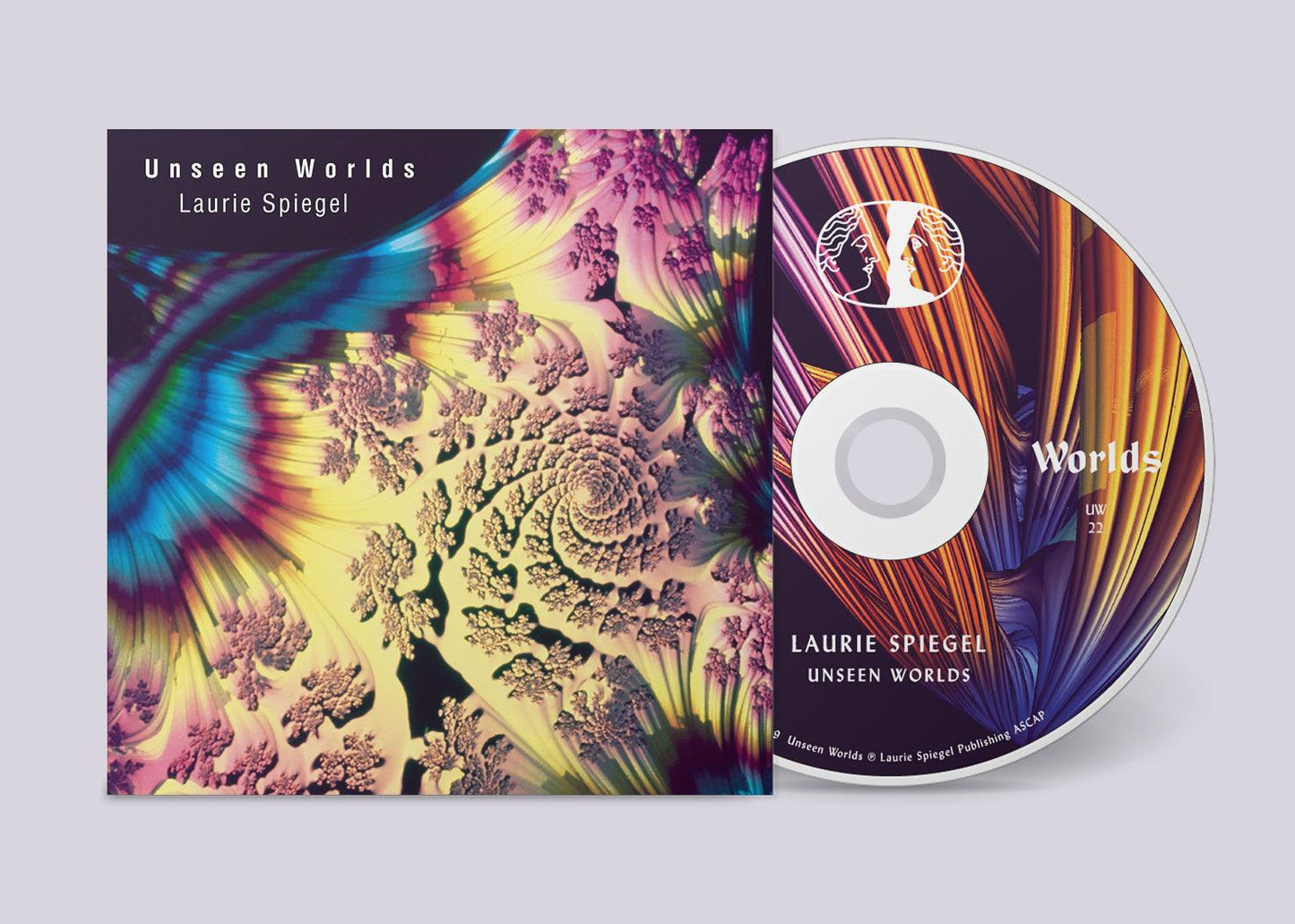 Laurie Spiegel's second full-length album, Unseen Worlds, arrived just over ten years after her debut album. Having realized the pieces found on The Expanding Universe (1980) on an instrument no longer available to her, the GROOVE System at Bell Laboratories, Spiegel moved on to composing and developing for the Alles Machine, alphaSyntauri, McLeyvier and various other instruments before creating an instrument entirely her own. Spiegel created "Music Mouse - An Intelligent Instrument" on a Macintosh 512k so that she could have an instrument that was not general purpose but a small, specialized, and well defined musical instrument for and by her that she did not have to compromise on or risk losing access to it. While it was a very personal instrument for Spiegel, demand among friends and colleagues nevertheless grew until "Music Mouse - An Intelligent Instrument" became a commercial product for the Macintosh, Amiga, and Atari personal computers with a devoted popular following that continues to this day, despite the obsoletion of those platforms. At the time of her Unseen Worlds album's original release in 1991, the issuing record label turned out to be going out of business, dissolved and disappeared, sending the album immediately into obscurity. Outside of a private CD edition issued by Spiegel on her own Aesthetic Engineering label in 1994, this new edition represents the first proper commercial release of Unseen Worlds.
Press
"Some pretty amazing heartfelt molecular inner-happening soundscape soul journeys" – Terry Riley
"Laurie Spiegel is one of those rare composers in whom head and heart, left brain and right brain, logic and intuition, merge and even exchange roles.Though she is one of the highest-tech computer composers in America, Spiegel is also a lutenist and banjo player, and sees the computer as a new kind of folk instrument. She makes her most intuitive-sounding and melodic music from mathematical algorithms, and her most complex computerized textures by ear and in search of a desired mood. Form and emotion are as difficult to separate in her music as they are in that of her idol, J.S. Bach." – Kyle Gann
Unseen Worlds is not so much based on melody and rhythm as it is on textures, pulses, and sonic environments. Sometimes dark, sometimes light, its drama pulls in the adventurous listener who wants to take a musical journey. Using computer software she wrote in order to implement a unique musical vision, Unseen Worlds blends the artistic and the technical, the cerebral and the sensual, and revives the virtually abandoned tradition of electronic music. Unseen Worlds is the work of a sonic explorer whose music can both challenge and caress. Those looking for other worlds of sound can put on headphones and find them here." - Craig Anderton
"At points, the music almost forms a fractal bridge between Wolfgang Voigt's thumping ambient drift of GAS and Paul Dolden's digital landslips over a Renaissance harpsichord. As you settle into Unseen Worlds, it really starts to go spectacularly widescreen." - John Nicol, Obladada
"Spiegel's music is generally classified as ambient, but there's very little about Unseen Worlds that could be described as such; the propulsive, perfectly sequenced flow imbues the album with a unique, uncharacteristic linearity... Unseen Worlds feels both microscopic and panoramic... Spiegel's influence has never felt stronger, thanks to labels like Huerco S.'s West Mineral Ltd., and the algorithmically-focused virtuosity of artists like Caterina Barbieri. In other words, there's no better time to show how ahead of its time her Unseen Worlds was." - Miles Bowe, Bandcamp "Album of the Day"
"These are spacious, unpopulated worlds that beckon without begging, where sounds that seem to suggest stasis reveal themselves to be bustling nodes of activity, all of it balanced right on the precipice of sublime beauty. Despite all those years on the shelf, Unseen Worlds' warring microtones and hushed awe make it feel remarkably fresh." - Marty Sartini Garner, The A.V. Club "A Sides" feature
"If you didn't know or don't care about the cutting-edge computer programming, newly created digital instruments, and the technical facts behind the creation of "Unseen Worlds", that's fine because it's so enjoyable purely on its own terms. For any fan of electronic music, this reissue is absolutely necessary." - Vital Weekly
Track List
DIGITAL TRACK LIST
Thesis - Exploration and Intuition
Nine Improvisations Recorded, Edited and Elaborated as Digital Audio:
Three Sonic Spaces I (01:36)
Three Sonic Spaces II (03:22)
Three Sonic Spaces III (05:54)
Finding Voice (02:46)
The Hollows (04:52)
Two Archetypes: Hall of Mirrors - I (04:24)
Two Archetypes: Hurricane's Eye – II (03:35)
Sound Zones (08:08)
Riding the Storm (04:29)

Antithesis - Reason, Structure and Process
Two Intellectual Interludes (data and process):
Strand of Life ("Viroid") (01:21)
From a Harmonic Algorithm (02:55)

Synthesis - Form and Content
None of the Above:
Passage (14:03)
Credits
Computer Generated Music Composed, Coded and Otherwise Created by Laurie Spiegel

Cover Image: still frame from Stacked Julia Set (1990), a fractal computer animation by Dan Sandin, Electronic Visualization Lab., Univ. of Illinois at Chicago. (Soundtrack music for this video is
by Laurie Spiegel)

Cover layout adapted from CD design by Nancy L. Thornton

Audio mastered by Paul Zinman
All compositions ℗ Laurie Spiegel Publishing (ASCAP), Released under exclusive license to Unseen Worlds
Laurie Spiegel is one of those rare composers in whom head and heart, left brain and right brain, logic and intuition, merge and even exchange roles.Though she is one of the highest-tech computer composers in America, Spiegel is also a lutenist and banjo player, and sees the computer as a new kind of folk instrument. She makes her most intuitive-sounding and melodic music from mathematical algorithms, and her most complex computerized textures by ear and in search of a desired mood. Form and emotion are as difficult to separate in her music as they are in that of her idol, J.S. Bach.

Spiegel was born in Chicago where in her teens she played guitar, banjo, and mandolin, and through them cultivated a devout philosophy of amateur music making. After receiving a degree in the social sciences, she returned to music. Having taught herself notation, she studied classic guitar and composition privately in London, then baroque and renaissance lute at Julliard, and composition with Jacob Druckman and Vincent Persichetti.

Having worked with analog synthesizers since 1969, she sought out the greater compositional control which digital computers could provide and wrote interactive compositional software at Bell Labs from 1973-79. She later founded New York University's Computer Music Studio, and became famous in rock music circles for her music software for personal computers, especially MusicMouse. MusicMouse's built-in musical logic allows even nonliterate musicians to create music in either tonal or atonal styles by hitting the computer's keys and moving its mouse. Distilled from centuries of musical practice, MusicMouse's statistical possibilities are enormous, and make any amateur feel suddenly in control of myriad elements. Still, the key to using MusicMouse to make successful music lies in what one does beyond the software, in both musical performance and electronic orchestration.

Despite her innovative involvement with technology, Spiegel the composer has never been dominated by Spiegel the computer technician. Her music from the 70s used compositional algorithms (in one case a realization of Kepler's "Harmony of the Planets", included in the Voyager spacecraft's record Sounds of Earth) to generate music in an accessible, minimalist vein. Some of that music was captured on her record on the Philo label, The Expanding Universe, containing works from 1974-6.

But in the early 80s, Spiegel distanced herself from the downtown New York scene that she had helped create, complaining that the new music scene's general direction was toward an "expansion of the collection of tools and techniques available to make music (useful, but not as the central content of a work)". "For me," she more recently explained, "music is a way to deal with the extreme intensity of moment to moment conscious existence." Since breaking away, Spiegel has lived as one of New York's most independent musicians, supporting herself by her software and circulating her music privately.

Those who fell in love with the folk like melodies and early algorithms of The Expanding Universe may be surprised to hear how much darker and more complex Spiegel's recent music has become. "Minimalism" may still aptly describe the slow movement of pitch in these pieces (Unseen Worlds), but it gives no hint of their complex timbres, glacial momentum,and cathartic climaxes. Such vibrant, expressive music could only have come from a composer who put her intuition and imagination first, yet who had the immense technical know-how needed to meet the challenges they posed.

– Kyle Gann