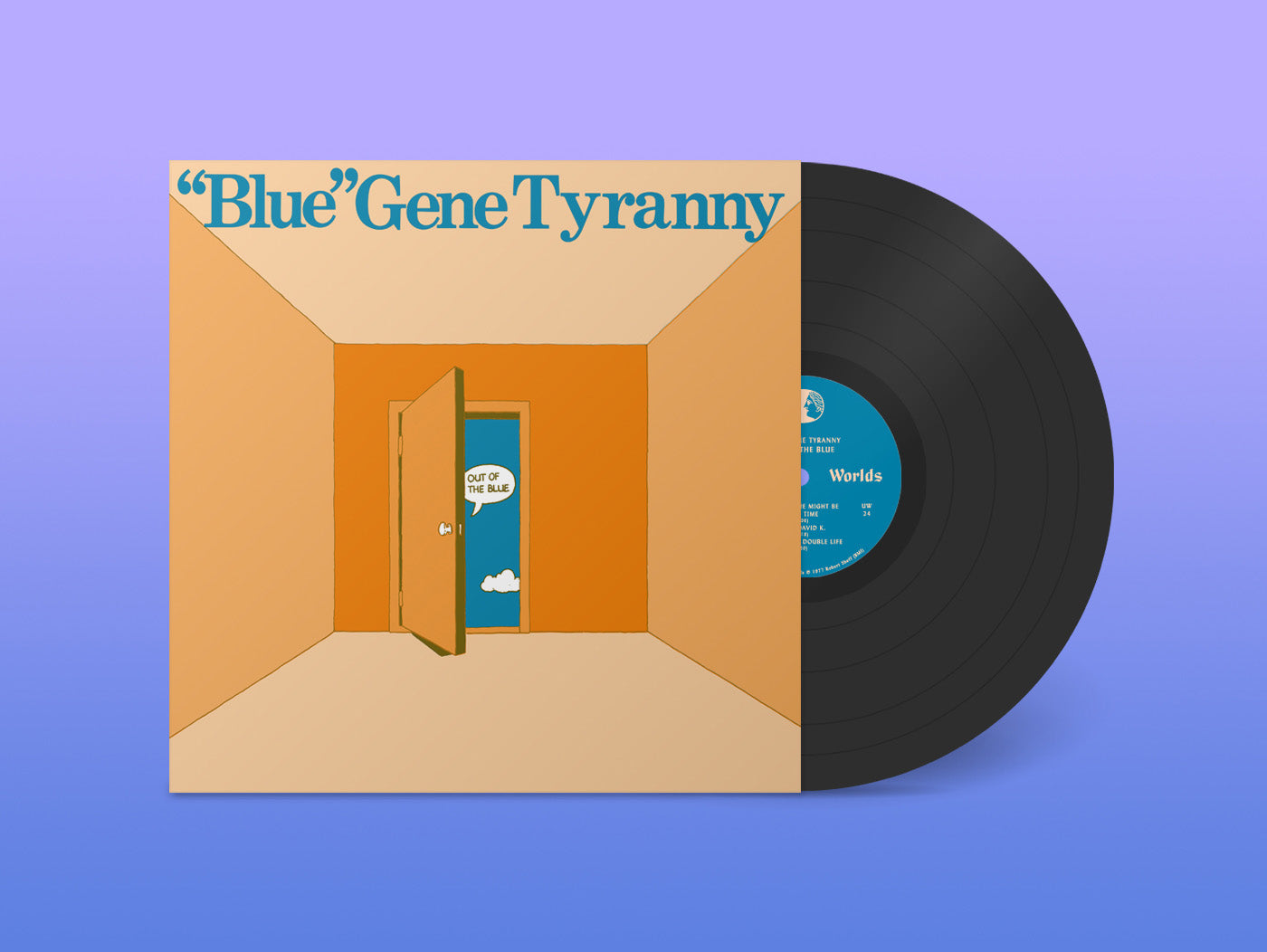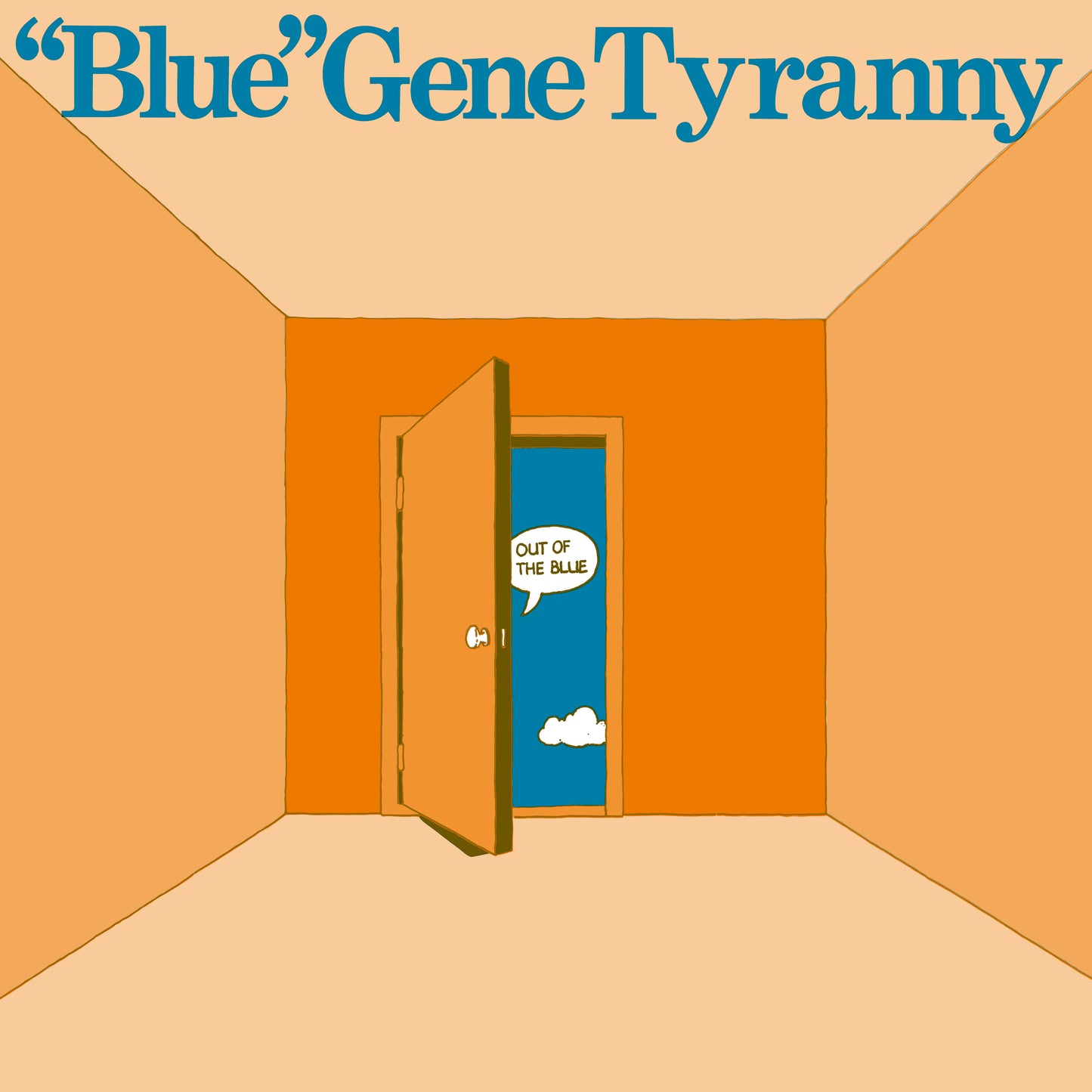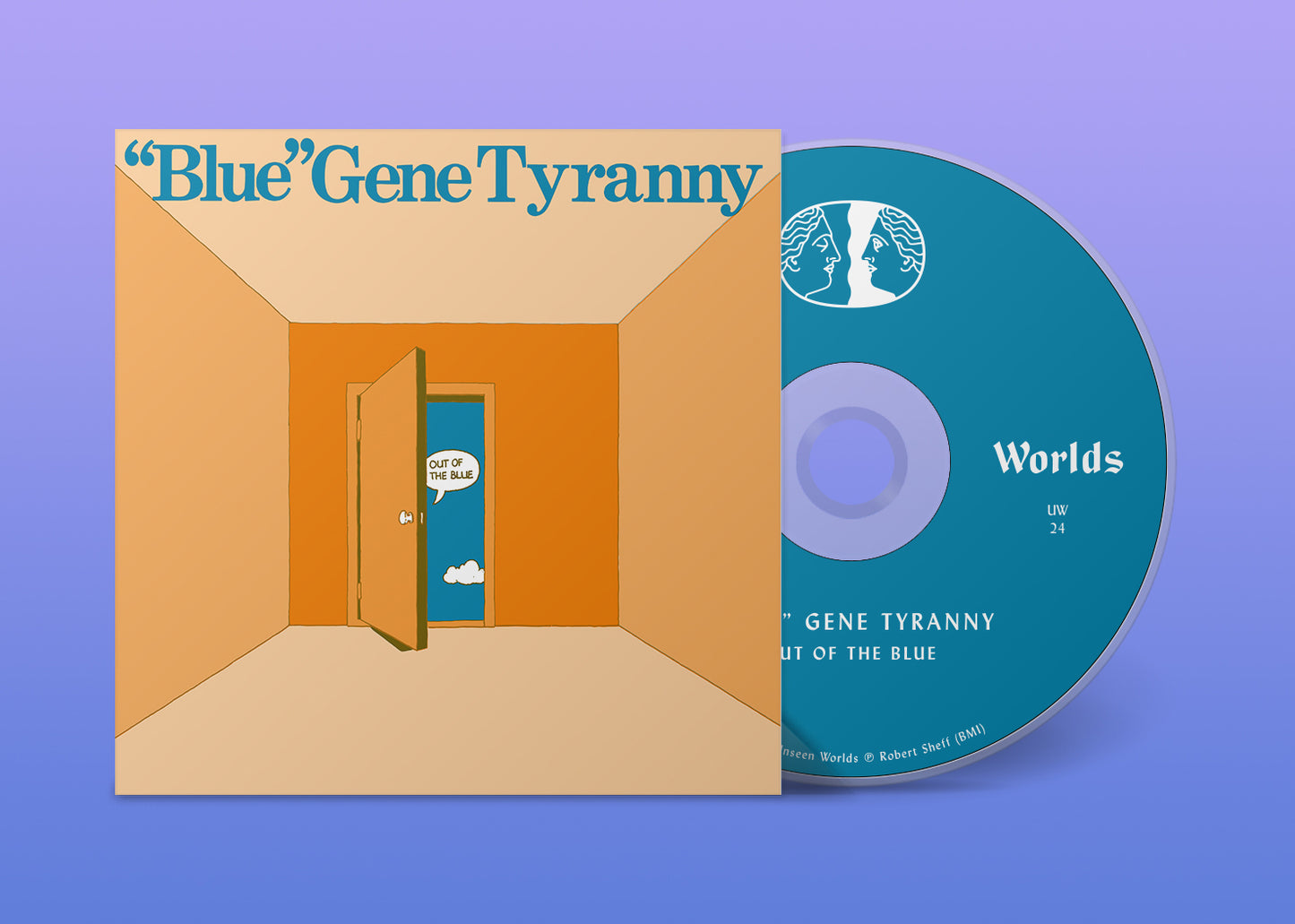 "Blue" Gene Tyranny's debut album
Out of the Blue
— newly remastered with original cover art — which was among the first to releases on Lovely Music in 1978 alongside Robert Ashley
Private Parts
, David Behrman
On the Other Ocean
, Jon Hassell
Vernal Equinox
, Meredith Monk
Key
, and Peter Gordon
Star Jaws
. Disarmingly direct, funky, and profound, Out of the Blue is an equanimous, wide-open exploration of Tyranny's musical world: equal parts song cycle, tone poem, keyboard fantasia, and avant-garde pop record. Recorded and mixed by Tyranny at Mills College, this album emerged following the legendary 1976 Trust in Rock concerts, where Tyranny and collaborator Peter Gordon presented New Music for rock band. "Next Time Might Be Your Time" and "For David K." were co-produced by Gordon, and also feature Mills's Maggi Payne on flute as well as Oingo Boingo's Steve Bartek on guitar; "Leading a Double Life" is sung by Lynne Morrow and Jane Sharp, accompanied by Tyranny on piano and polyMoog synthesizer; "A Letter from Home" is a half-hour electro-acoustic narrative meditation on "the Doppler effect as a metaphor for the development of consciousness."
Out of the Blue
lives up to its name: it is both surprising and familiar, revealing for the first time something that was always already there.
Press
"…my favorite avant garde pop record, with all the sublime kitsch and profoundly ironic relish of a pure postmodern moment… transferred to CD, Out of the Blue sounds still more vivid now. To use Peter Gordon's words, this is "gorgeous" music." – WIRE (UK)
"Though sounding timeless, just try to find another album in which the AM folk pop stylings of Carole King rest heads comfortably with Poppy Nogood-era Terry Riley. Each of these four long tracks moves about though, from song to rock to minimalism and back, providing a wonderful entry into the world of this most cherubic figure of the American vanguard and modern classical." - Other Music
"classical... an ambitious and moving masterpiece... takes up half the records. It is 'Letter From Home,' an epistolary song in the tradition of Harry Partch's 'Letter' " - The New York Times
Track List
LP TRACK LIST
A1. Next Time Might Be Your Time (8:06)
A2. for David K. (6:18)
A3. Leading a Double Life (8:20)
B1. A Letter from Home (25:50)
Credits
"Next Time Might Be Your Time"
Patrice Manget: Vocal; Tony Johnson: Drums; Steve Bartek: Electric and acoustic guitars, bass; Peter Gordon: Alto sax, tenor sax solo; Karl Young: Tenor sax; Maggi Payne: Flute; Arthur Stidfole: Bassoon; "Blue" Gene: Fender-Rhodes & RMI electric pianos, poly Moog synthsizer

"David Kopay (Portrait)"
Tony Johnson: Drums; Steve Bartek: Electric guitars, bass; Peter Gordon: Clarinet, alto sax, tenor, sax solo; Karl Young: Clarinet, tenor sax; Chuck Clark: Tenor sax; Steve MacKay: Baritone sax; Maggi Payne: Flute; Arthur Stidfole: Bassoon; "Blue" Gene: Clavinet, tack piano, poly Moog synthesizer

"Leading A Double Life"
The Love Chorus: Lynne Morrow, soprano, Jane Sharp, soprano; "Blue" Gene: Piano, poly Moog synthesizer

"Out of the Blue / A Letter from Home About Sound and Consciousness"
Kathy Morton: Narration; The Versifying Chorus: Lynne Morrow, soprano, Jane Sharp, soprano; Peter Gordon: Alto sax, tenor sax; Maggi Payne: Flute; Bob Davis: 12-string guitar; Barbara Higbie: Fiddle; Anne Klingensmith: Violincello; E. Jedidiah Denman: Acoustic bass; Joel Ryan: Holding patterns; "Blue" Gene: Clavinet, RMI electric piano, poly Moog synthesizer, matrix processing, outdoor sounds

Produced, recorded and mixed by Robert Sheff
Next Time Might Be Your Time and David Kopay co-produced with Peter Gordon.

Additional recording by Kenn Beckman, Kathy Morton, Peter Gordon, Andrew Aldrich and David Behrman; Mixing Assistant: Andrew Aldrich

Recorded at The Recording Studio, Center for Contemorary Music, Mills College (Oakland, California), September-October, 1977.

Original jacket design by Ariel Peeri, restored by Maura Murnane. Special thanks to Frank Orlando and Robert Silva.
All music composed and arranged by Robert Sheff, published by BMI

© 2019 Unseen Worlds UW24LP All rights reserved. Originally released by Lovely Music, Ltd. in 1977 as LML-1061.
"Blue" Gene Tyranny, born Joe Gantic and then adopted as Robert Nathan Sheff, lived a life dominated by music.

Blue's approach to music is best demonstrated through his own words:

Music is my way of being in the world. It teaches subtle feelings, natural growth, social interaction, and more. Music is the art of time passing filled with motion, emotion, locomotion, love of sound, and much more in bits and pieces. Music takes care of two basic needs that last throughout a lifetime: the need to relate to others and the need for freedom.

He created over 50 works for various electronic and acoustic instruments and voices, which research mysterious natural and social phenomena. Born in San Antonio, Texas, in 1945, Tyranny lived in each of the four corners of mainland U.S. During the late '50s, he studied with pianists Meta Hertwig and Rodney Hoare, composers Otto Wick and Frank Hughes, and organized new music events in Texas with composer Philip Krumm, including several festivals at the McNay Art Institute – premiering works by Cage, Corner, Maxfield, Ono, and others. After earning a BMI Student Composer's Award in 1961, he moved to Ann Arbor, Michigan.

During the '60s and '70s, he toured with jazz and rock groups (Carla Bley Band, Iggy Pop, the Prime Movers Blues Band, etc.). From 1971 to 1982, as a Lecturer and Instructor in Music, he taught "Recording Studio Techniques", "Harmony and Counterpoint" (three levels)," and "Jazz Improvisation and Literature," and served on graduate committees in the Music Department of Mills College in Oakland, California. He also worked as a technician at the Center for Contemporary Music, a non-profit, community-access facility located at Mills College.

He moved to New York in 1983, where he was a self-employed composer-performer of solo and group concerts, audio consultancy, film soundtracks, and commissioned work. He performed extensively in hundreds of concerts throughout the US, Canada, and Europe, and also in Mexico, Brazil, and Japan.

"Blue" produced, recorded, and performed on many albums of other composers' music (Laurie Anderson's Strange Angels, David Behrman's On the Other Ocean, John Cage's Cheap Imitation and Empty Words, etc.), and he composed the harmonies and piano improvisations for Robert Ashley's television opera Perfect Lives. He created over 40 soundtracks for film and video, collaborating on projects with video artists Kenn Beckman and Kit Fitzgerald. His theater and dance collaborations include pieces with the Talking Band, performance artist Pat Oleszko. 

"Blue" Gene Tyranny died on December 12, 2020 in Long Island City, New York at the age of 75; his death was brought on by complications from diabetes.