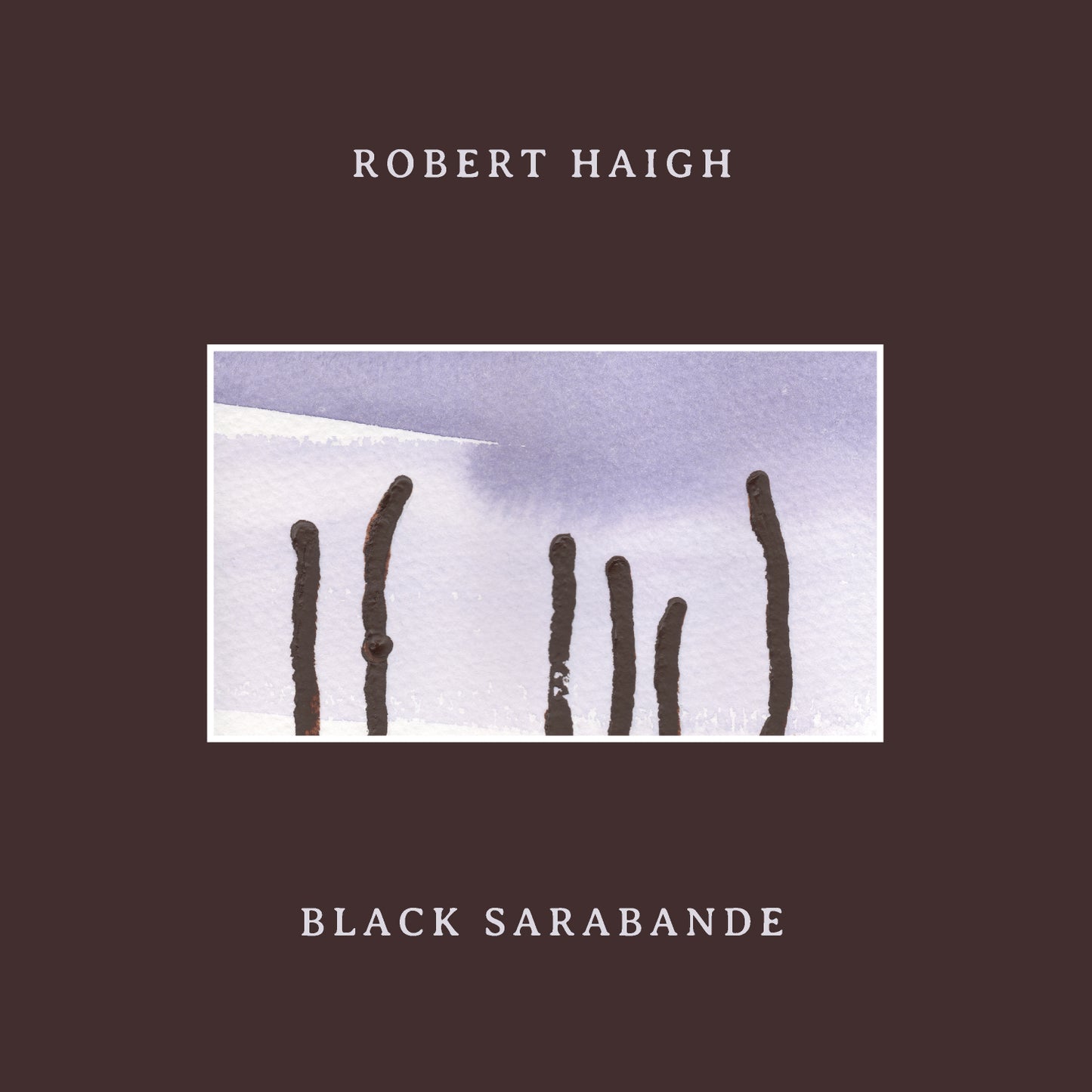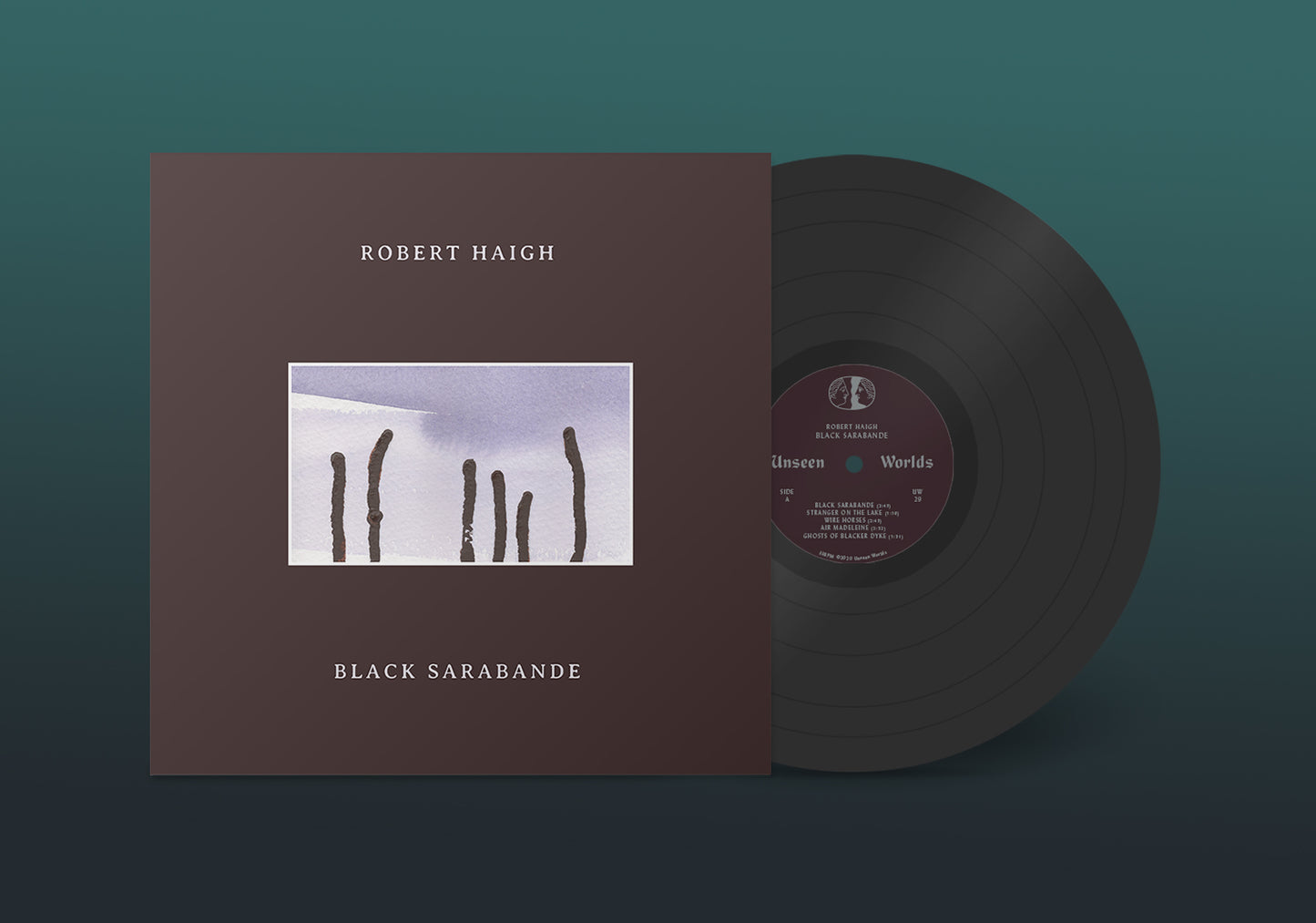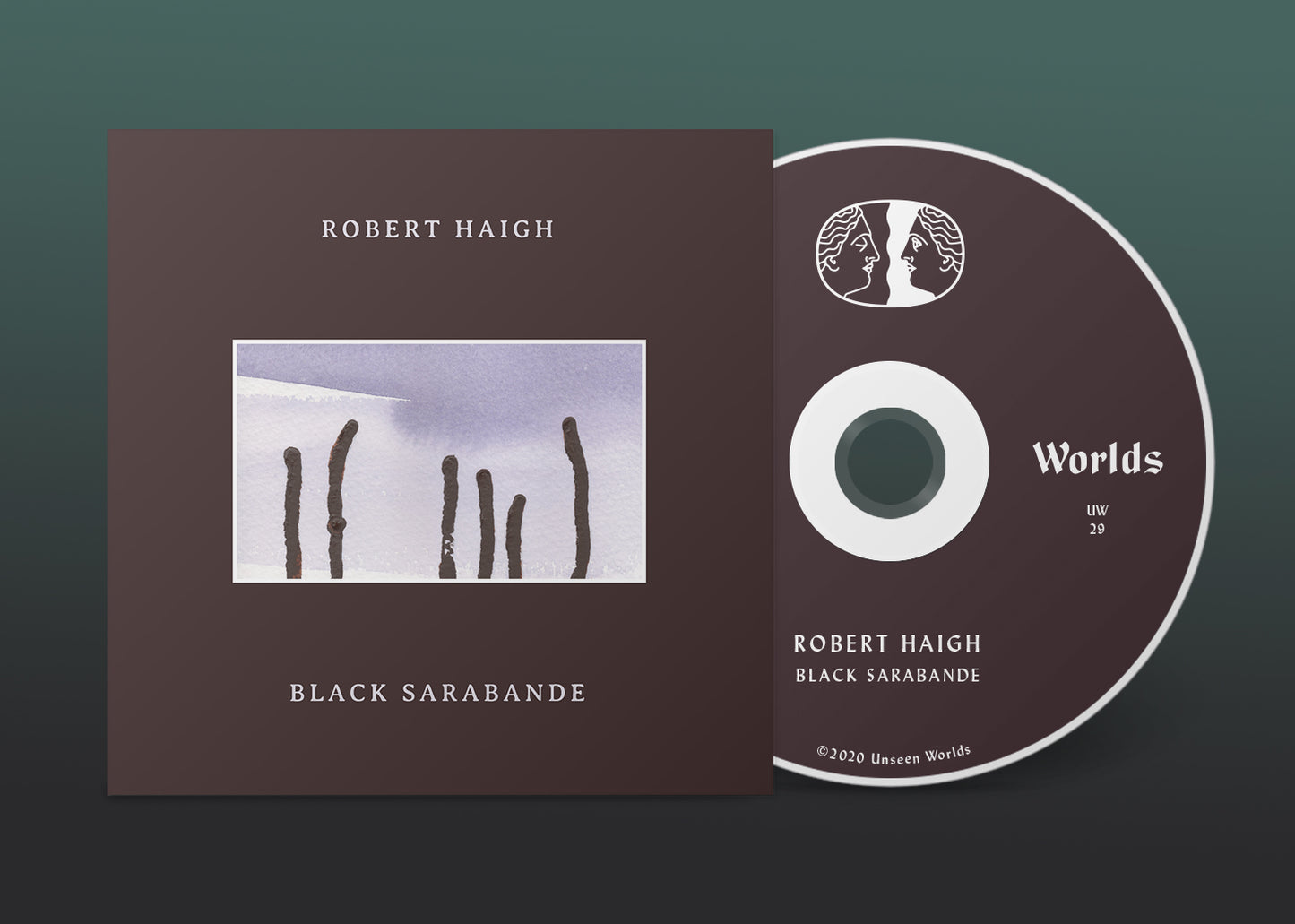 Black Sarabande expands upon pianist-composer Robert Haigh's beguiling debut for Unseen Worlds with a collection of intimate and evocative piano-led compositions. Haigh was born and raised in the 'pit village' of Worsbrough in South Yorkshire, England. His father, as most of his friends' fathers, was a miner, who worked at the local colliery. Etched into Haigh's work are formative memories of the early morning sounds of coal wagons being shunted on the tracks, distant trains passing, and walking rural paths skirting the barren industrial landscape
The album opens with the title track — a spacious, plaintive piano motif develops through a series of discordant variations before resolving. On 'Stranger On The Lake,' sweeping textures and found sounds lay the foundation for a two chord piano phrase evoking a sense of elegy. 'Wire Horses' is an atmospheric audio painting of open spaces and distant lights. 'Air Madeleine' uses variations in tempo and dynamics to craft the most seductively melodic track on the album. 'Arc Of Crows' improvises on a single major seventh chord, splintering droplets of notes as ghostly wisps of melodic sound slowly glide into view. 'Ghosts Of Blacker Dyke' is a melancholic evocation of Haigh's roots in England's industrial north — intermingling dissonant sounds of industry within a set of languid piano variations. 'Progressive Music' is constructed around a series of lightly dissonant arpeggiated piano chords which modulate through major and minor key changes before resolving at a wistful and enigmatic refrain. In 'The Secret Life of Air', a nocturnal, low piano line slowly weaves its way through the close-miked ambience of the room, nearly halting as each note is allowed to form and reverberate into a blur with the next. The ambitious 'Painted Serpent' calmly begins with drone-like pads and builds with the introduction of counterpoint piano lines and an orchestral collage of sound underpinned by a deliberate bass motif. 'Broken Symmetry' and 'Lady Lazarus' highlight Haigh's gift for blurring the line between dissonance and harmony - opaque piano portraits of moonlight and shadows glancingly evoke the impressionistic palettes of Harold Budd, Debussy and Satie.
Press
"Robert Haigh's latest album (under his own name) is a tender collection of spacious and textural piano pieces, full of rural ruminations and introspective intimacy." (9.0, scored review) - Zara Wladawsky, DJ Mag
"Having worked on mid-'80s Nurse With Wound albums, Robert Haigh thrived with Omni Trio's pioneering '90s productions for Moving Shadow, but his piano work, both under his and the SEMA name, reaches even further. His latest collection embraces the resonant ambience and subtle electronic embellishments of Harold Budd's and Brian Eno's The Pearl." - Uncut Magazine

"Robert Haigh's storied career reads like an almanac of ambient music. His latest is an unhurried flow of ambient piano pieces that, despite the implications of the title, are only momentarily dark and far from risqué, perhaps at times more suited for those soft intimate moments made for two, or most certainly personal reflections made for one." -

Exclaim!



"Everything I've ever written about any album, concert or piece of music is wrong. I know this because of something that happened while I was quietly listening to 'Arc Of Crows' by pianist Robert Haigh, a track taken from his new album Black Sarabande." - Further
Track List
DIGITAL TRACK LIST
1. Black Sarabande (2:43)
2. Stranger on the Lake (5:58)
3. Wire Horses (2:43)
4. Air Madeleine (2:32)
5. Ghosts of Blacker Dyke (5:31)
6. Lady Lazarus (2:00)
7. Arc of Crows (3:49)
8. Progressive Music (2:41)
9. The Secret Life of Air (3:06)
10. Painted Serpent (5:07)
11. Broken Symmetry (2:38)
At school, Haigh was in a band called Labyrinth playing original material that was influenced by David Bowie and Roxy Music. In the early 1980s Haigh released a series of experimental ambient albums under the names Robert Haigh and Sema. He also contributed to several Nurse With Wound projects and formed an industrial avant-funk band called The Truth Club together with Trefor Goronwy, who would go on to join This Heat.

In the 1990s, Haigh developed a unique style of what has become known as 'ambient drum 'n' bass' and released six EPs and six albums under the name Omni Trio to great acclaim. Omni Trio was one of the original drum 'n' bass producers, who first released for Moving Shadow as early as 1993. Following the release of the sixth and final Omni Trio album Rogue Satellite in 2004, Haigh decided to cease recording as Omni Trio.

On his decision to cease recording as Omni Trio he has said: "After Even Angels Cast Shadows and especially the minimal structures of Rogue Satellite, I felt that perhaps my work was done in this particular area. All along the intention was to do the Omni Trio stuff alongside producing and releasing piano based material under my own name. Then the Omni thing blew up much bigger than I had anticipated. But throughout the '90s I also kept writing piano and minimal themes. By the early 2000s the time seemed right to put the emphasis on developing this material." Following Omni Trio, Haigh released a number of modern classical and minimalist albums under his own name for a variety of labels, culminating in a trio of albums for Unseen Worlds (Creatures of the Deep, Black Sarabande, Human Remains), which would also mark an intentional pivot away from album production.