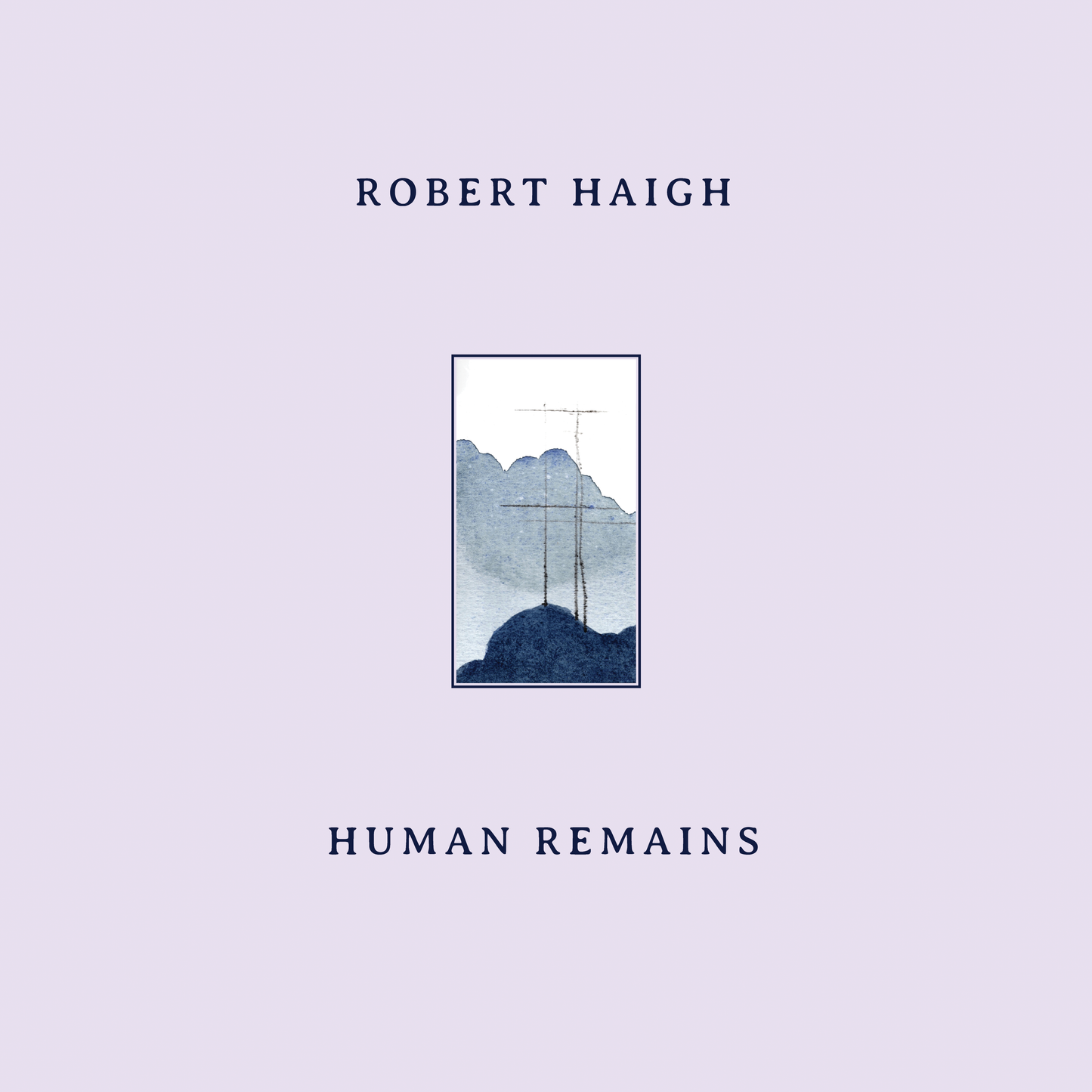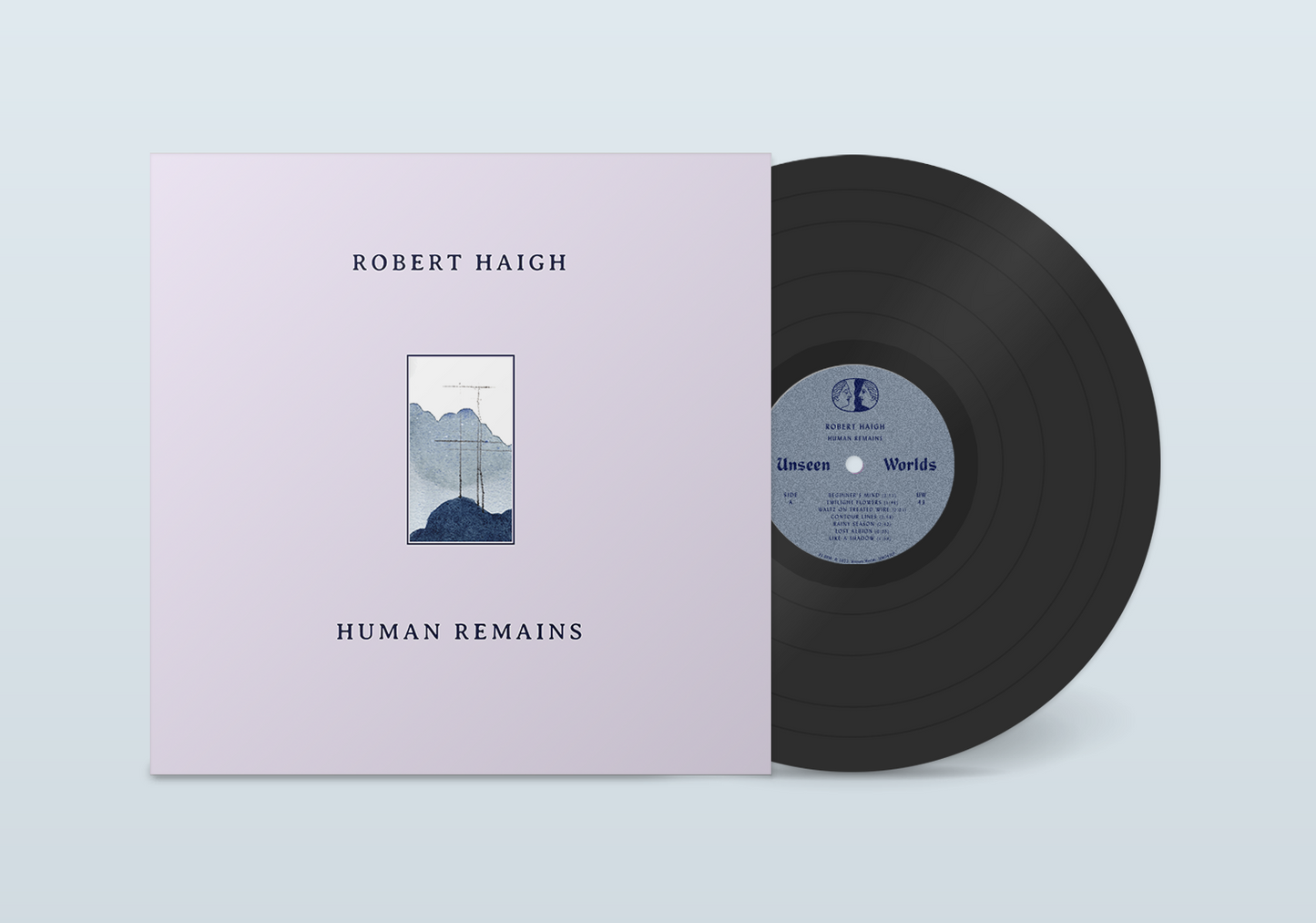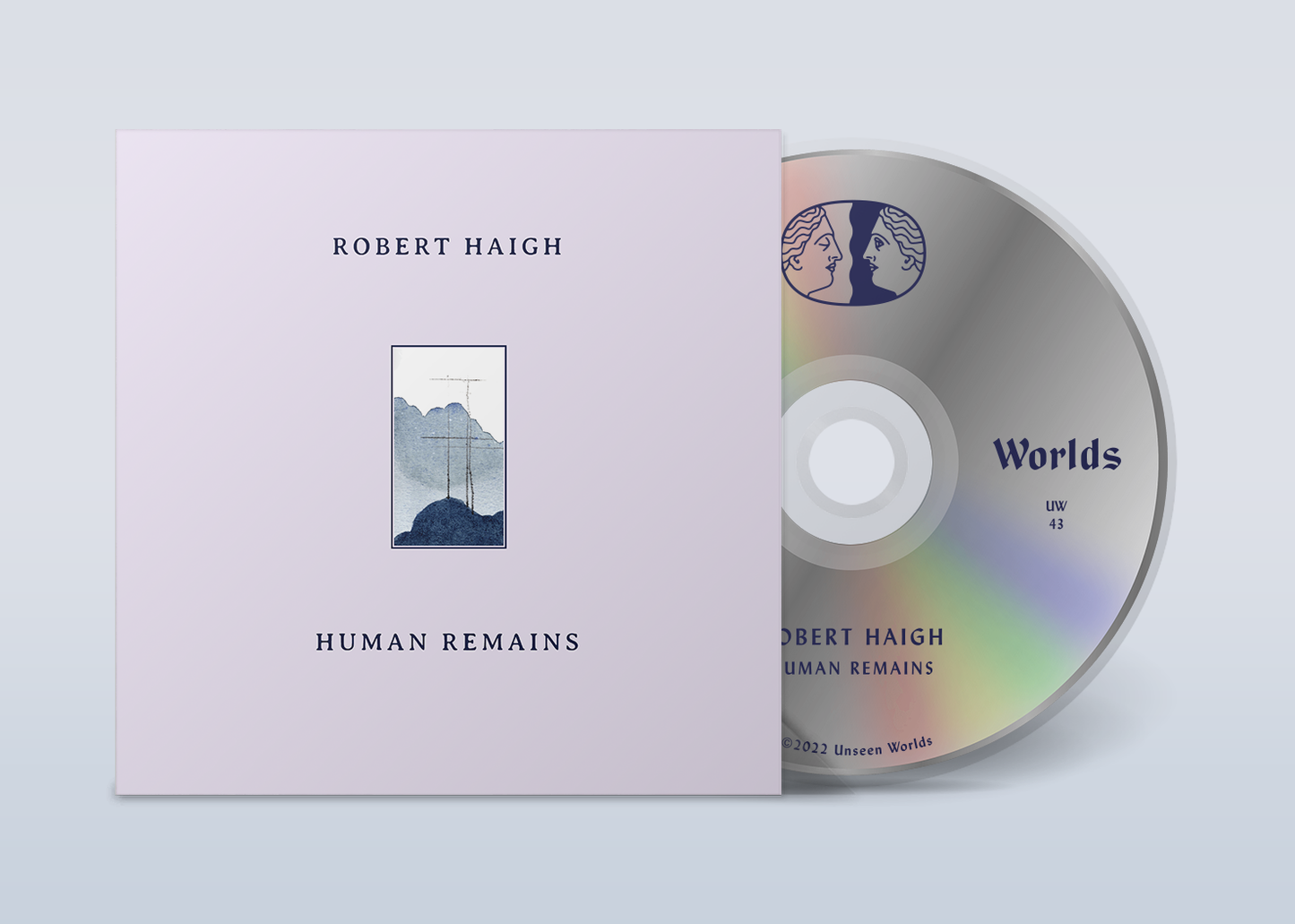 Human Remains follows Creatures of the Deep and Black Sarabande as the final installment of a trilogy of piano based recordings by Robert Haigh for Unseen Worlds – marking the end of the late era of solo albums by Haigh, as he steps away from music production.

The title, Human Remains, was initially based on a painting of the same name by Haigh that is suggestive of an ancient structure resolute in the wake of overwhelming forces. As a metaphor for our current times, it could be interpreted as human frailty in the face of nature's unyielding dominion or conversely, the persistence of human spirit and resourcefulness in the midst of catastrophe and upheaval.

The album opens with "Beginner's Mind" - a semi-improvised motif develops into an impressionistic refrain. This is followed by "Twilight Flowers" and "Waltz On Treated Wire" – intimate, monochrome piano portraits. Tracks such as "Lost Albion" and "Signs Of Life" build on skeletal piano motifs with subtle electronic washes, textures and field sounds. The album ends with the elegiac "On Terminus Hill", where a stately piano refrain explores a series of sparse harmonic variations evoking a sense of closure.
Press
Brainwashed, Review by Duncan Edwards

"
Human Remains
is Robert Haigh's third (and best) release for the label. His composition and playing superbly balance immediacy and detachment. This balance places a subtle disguise or mystery over these compositions. I detect a similarity with the approach of Werner Herzog in many of whose films the audience is allowed to feel and react without heavy-handed close ups."
Uncut, Review by Jon Dale

"What a way to end things... like previous albums, Haigh's piano is typically eloquent, structuring tear-stained edifces out of simple patterns and spidery melodies, building to the string-soaked melancholy of 'Baroque Atom'."
Mojo, Review by Grayson Haver Currin

"It's an exquisite farewell... several of these brief pieces, especially Twilight Flowers, feel like tenderly melancholy reflections on distant memories."
Track List
DIGITAL TRACK LIST
Beginner's Mind
Twilight Flowers
Waltz on Treated Wire
Contour Lines
Rainy Season 
Lost Albion
Like a Shadow 
Still Life with Moving Parts 
The Fourth Man 
Signs of Life 
The Nocturnals 
Baroque Atom 
On Terminus Hill
Credits
Written and Produced by Robert Haigh
Mastered by Stephan Mathieu
Cover Art, 'Signs of Life' by Robert Haigh
At school, Haigh was in a band called Labyrinth playing original material that was influenced by David Bowie and Roxy Music. In the early 1980s Haigh released a series of experimental ambient albums under the names Robert Haigh and Sema. He also contributed to several Nurse With Wound projects and formed an industrial avant-funk band called The Truth Club together with Trefor Goronwy, who would go on to join This Heat.

In the 1990s, Haigh developed a unique style of what has become known as 'ambient drum 'n' bass' and released six EPs and six albums under the name Omni Trio to great acclaim. Omni Trio was one of the original drum 'n' bass producers, who first released for Moving Shadow as early as 1993. Following the release of the sixth and final Omni Trio album Rogue Satellite in 2004, Haigh decided to cease recording as Omni Trio.

On his decision to cease recording as Omni Trio he has said: "After Even Angels Cast Shadows and especially the minimal structures of Rogue Satellite, I felt that perhaps my work was done in this particular area. All along the intention was to do the Omni Trio stuff alongside producing and releasing piano based material under my own name. Then the Omni thing blew up much bigger than I had anticipated. But throughout the '90s I also kept writing piano and minimal themes. By the early 2000s the time seemed right to put the emphasis on developing this material." Following Omni Trio, Haigh released a number of modern classical and minimalist albums under his own name for a variety of labels, culminating in a trio of albums for Unseen Worlds (Creatures of the Deep, Black Sarabande, Human Remains), which would also mark an intentional pivot away from album production.